[By Tania Hui]
There are certainly a lot of catching up to do when one chose to follow the footstep of an elder sib, a buxomy blonde bombshell making waves at the international modeling scene, dated Cody Simpson and Nick Jonas, and is the current squeeze and muse to Zayn Malik, arguably one of the hottest rising hunks in the music scene— all in less than 21 years of age. But it seem that 19 year old Bella Hadid is hardly contented to be relegated to the shadow of her famous sister Gigi, chalking up an impressive debut season at the recently concluded Paris Fashion Week from Miu Miu to Givenchy. More importantly, she was handpicked by Karl to walk for Chanel dressed in head to toe BLACK. For those who speak fashion and understand how things work in this hierarchial industy, this is indeed a BIG moment, especially for a fresh new face plucked from obscurity. When the Tzar of Fashion waved his gloved finger and put his stamp of approval on you, your fate in the is henceforth sealed.
From all the old photos that surfaced on the internet once fame found you, Bella was by all means pretty as a teenager. Afterall, how wrong can one be with genes from Yolanda Foster? But it was certainly nowhere near the current flawless polished mug that graces magazine covers and scored campaigns. So had she or had she not had a little help along the way and what can be done to transform standard pretty features to outworldly stunning? Let us count the ways….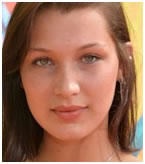 A good nose to sniff out the best contracts
One of the most hotly debated rumor surrounding our up and coming celebrity model is whether she had a rhinoplasty done. Pictured here at the Kid's Choice Award in 2014, it's obvious that her previous nose was a little broader with a tip a tad rounder compared to the more refined and elegant looking one she's sporting now. The current trend in surgical rhinoplasty takes on a much more customized approach in addressing each individual case, in particular taking into account racial and ethnic differences. The emphasis is on preserving or improving support for a more natural and better functioning nose with proportions congruent to the rest of the facial features to achieve overall harmony.
Nose refinement is a reshaping procedure and one of the things that is commonly done would be reducing the 'wings' or alar of the nose, making the final nose narrower and smaller. In Allure-K™ Rhinoplasty, this is done together with nasal augmentation, which raises the bridge and tip of the nose in the same sitting for an aesthetically pleasing outcome that does not appear harsh or overdone.
Read more: Lunchtime 'Rhinoplasty' — now a possibility with Nose Thread Lifts and Fillers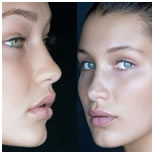 It's a lipstick jungle out there
While Bella's lips are nowhere as plumped out as Kylie's Jenner's, her pair of puckers, especially her upper lip, is looking a lot more pillowy and luscious these days. To give your lips a subtle boost in the right direction, opt for Revitalift Lips, a revolutionary, deeply hydrating treatment with minimal to no downtime.
"An ultra-fine, small particle hyaluronic acid filler is carefully introduced into your lips via a series of microinjections during Revitalift," explains Dr. Toby Hui, senior consultant with The Sloane Clinic. "Our aim is to revitalize and rejuvenate thinned out and lacklustre lips without overtly amping up their volume or size to give an exceedingly natural look. You won't end up with a trout pout or exaggerated lips like a blown-up doll. It's definitely more of an enhancement of your natural features for a better improved version of yourself."
Get cheeky
A flattened mid face bony structure detracts from the desirable full, youthful contours of an ideal V-shaped face and tends to cast unflattering shadows under the eyes that make one appear haggard and listless. To get Bella's modelesque look, Restylane® Hydrolift does wonders in lifting sunken cheeks and undereye hollows while illuminating dull, dehydrated skin at the same time to elevate your beauty quotientto com-card standard. This lunchtime procedure imparts a filter-free, profile pic-worthy dewy glow that smoothens fine lines and wrinkles without the risk of freezing any expressions. In addition, it subtly plumps volume-deficient areas to correct shadowy undereye hollows or highlight brow arches and outer corners of the eyes for an instantaneous uplift to add sparkle to your peepers. No clownish arched brows or 'deer caught in headlight' expression 'cos you positively #wokeuplikethis. Who says fillers are unnatural?
Read more: I Tried It! – How Fillers Took 10 Years Off My Face In 30 Minutes
Bright lights and illuminating skin
In the world of live mannequins where youth is a prized commodity, 19 year old Bella is prime time material with a glowing complexion that works as an excellent blank canvas from barely there neutrals to dramatic theatrics. While makeup trends may come and go, a good complexion never goes out of style.
The Divine Whitening Program and Brilliant Skin Program are two great comprehensive treatment plans to help those with pigmentation issues to go from drab to fab. By using FDA approved Pigment Laser and Fraxel Light Laser Therapy as the core treatments in adjunct to whitening vitamin therapy and LED red light photo-modulation which encourages skin healing and rejuvenation, we are able to refresh dull, fatigued complexions and radically correct skin discolouration and texture irregularities without significant downtime. Besides tackling pigmentation head on, it is also good to know that these laser treatments when performed regularly will also help stimulate collagen production, giving rise to more youthful and supple-looking skin that's ready for beauty head shots and close-ups wherever, whenever!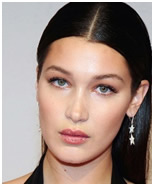 Head turning hair
To set herself apart from sister Gigi, Bella chose to dye her naturally blonde locks dark and wear them straight and centre-parted, creating by now a signature look of hers. From Twiggy's bob and Audrey Hepburn's pixie cut to Farah Fawcett's blowout and Linda Evangelista's close crop, the right hairstyle that suits you to a T will spawn a thousand copies and cement your role as a trendsetter.
Rejuvenate your crowning glory to cultivate or maintain a lusher, fuller head of hair with the Hair Maximizer Program, an in-house speciality offered by The Sloane Clinic Hair Care & Restoration Centre. Weakened hair roots are strengthened and thinning scalps revived with the FDA approved Revage 670 laser, proven to stimulate the growing phase of hair follicles. This is paired with Revitascalp, a holistic approach to support healthy hair growth with the infusion of vitamin B3 (niacin), vitamin E and a hefty shot of Minoxidil directly to the scalp via a special delivery system to restore your coiffure to shampoo-ad quality.
You might also like: