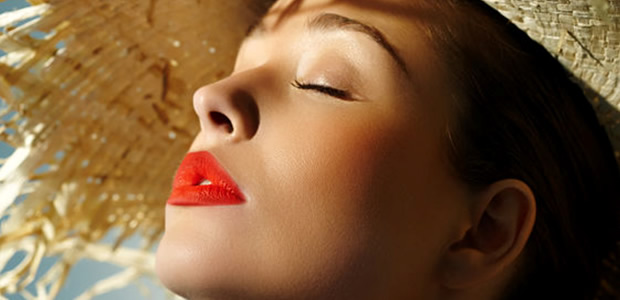 [By Alicia Liu]
You had worked your ass off the whole of winter and spring to achieve that near perfect bikini bod and there's nothing worse than a sudden attack of summer breakout to sabotage your aspiration to be belle of the beach. You probably know that not drinking enough water and eating a lot of junk food and sugary snacks can lead to zits popping up like blinking fairy lights, but there are some other sneaky things that could lead to flare-ups without you realising. Wondering what could be causing your summer breakout? It could be one or more of these 5 things, and once you're aware of what's leading to your summer breakout, you can take steps to make sure they go away and never come back.
Using the wrong sunscreen
You've read all about the repercussions of unprotected UV exposure and have slathered a thick layer of sunscreen all over your glistening body. At the same time, you've rubbed the excess lotion left on your hands over your face with the best intentions. Afterall, sunscreen is just sunscreen, right? No? One common sunscreen mistake especially amongst surfer dudes and babes, is to use body formulas on their faces. You can possibly use facial sunscreens on your body but not the other way round as there is no guarantee that the body formulas are non-comedogenic and won't clog up your pores or cause breakouts. Body spray sunscreens are even worse off as they often contain alcohol and can be extremely irritating to facial skin. Read your labels carefully while shopping for your sun protection arsenal along the drugstore aisle, and choose one that provides broad spectrum sun protection in dermatologist-approved formulas specifically for your face.
Blame it on your hair products
Hair wax or any other styling products that tend to stick to the hairline or trickle down the forehead with perspiration can lead to 'pomade acne' —zits that break out secondary to contact with hair styling products. Even when you rinse out your conditioner, some of it might linger behind and give you pimples. If you're prone to acne, read your labels carefully and avoid ingredients such as beeswax, lanolin or oils which can clog pores, giving rise to whiteheads, blackheads and acne eruption. At the same time, avoid adjusting your bangs with dirty fingers to further worsen the situation. Choose your hair products wisely and once you fix your style, be confident and leave it alone!

Sweat
It's great to engage in the myriad of outdoors activities as the weather warms up, but is all that sweating causing your summer breakout? Perspiration along the hairline and between the breasts tend to sit on the skin and lead to acne if it's not properly washed or rinsed. It is not uncommon for skin to produce more sebum and become more greasy in summer especially for those with combination skins. Keep your complexion zit-free with the Sloane Inc. Active Cleansing Gel, a deep cleansing oil-free formula that thoroughly removes excess oil, sweat, surface impurities and makeup to stop them in their tracks from clogging up pores. Containing potent alpha and beta-hydroxy acids and natural enzymes, this gentle yet effective cleansing agent helps to lightly exfoliate the skin's dead cells at the same time, giving complexions a fresh, squeaky clean glow to match the clear summer skies.
Pillow talk
Time always passes by faster as the temperature soars, with days jam-packed with fun-filled activities or prolonged lapses of inertia. Sometimes, without you realising, certain mundane chores are unintentionally missed along the way. You shouldn't let your bed linens go for too long because dirty pillowcases can be the sneaky reason that stands between you and your blemish-free complexion. Residual makeup, sweat, saliva and other unmentionable body fluids left behind on pillowcases can clog pores and tend to promote bacteria growth. Ideally, you should be washing your pillowcases at least once a week with hot water and gentle laundry detergent to keep them fresh and germs free.

High flyer
Are you air travelling more often either for work or leisure? Dry cabin air can really suck the moisture from your skin and lead to acne breakout. Facial mists may be refreshing but in reality, they won't be of much help in the dry atmosphere during air travel. Instead, nourish your skin with essential oils to keep it soft and supple from flight to destination. An awesome choice will be Sloane Inc. YOUTH, comes packaged in a slick pen with a rollerball tip for convenient storage and easy application. Formulated with 100% certified organic rosehip oil, YOUTH is designed to soften and smoothen fine lines and wrinkles, while keeping your complexion suitably hydrated and blemish free to allow you to channel your inner BayWatch self without abandon.
You might also like: