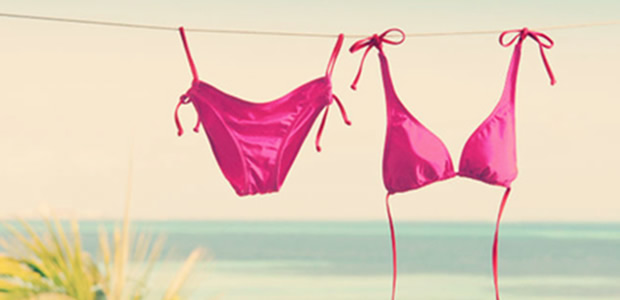 [By Cara Solis]
We all have experienced that same feeling summer after summer. Be it a coveted pool party invite at the Hamptons, an EDM weekend in Vegas or an island hopping vacay, the final week leading up to our biggest and most anticipated summer bash will automatically press that panic button and throw us into a state of frenzy overflowing with self-doubt. Instead of getting all jittery or nosediving straight towards an emergency escape, make this summer an exception with these last minute tips to get you #ATAP (As Tone as Possible). There's no way you're gonna miss out on the fun in the sun, so engage in these tips and you'll soon be working that crowd and be IG-ready with every move you make!
Continue to workout in moderation
Realize you have the body that you have and to become that crazy person who hits the gym for 6 hours a day with back-to-back spinning classes will not miraculously turn you into a VS angel. I would do some form of cardio that really gets you sweating, like stair climbing, running or high-intensity sprints, but it should not be more than 2 hours at one go. Hitting the weights with high repetitions is strongly recommended as this will create a "muscle pump" to make you feel and look ATAP. Concentrate on those arms, calves and glutes, to get you smoking hot and ever ready for any style of swimwear that is trending or catches your fancy!

There's no point in starving yourself
Starving yourself or cutting your calories intake to a ridiculously low level will not auto-slim you to model's size, but watching what you eat in those last few days will certainly make a difference. You should not attempt to go lower than 1200 calories a day and do not skip meals especially breakfast as this is not the right time to mess up your metabolism or energy level. Cut back on carbs especially at night and avoid food that are high in sodium which can cause water retention and bloating.
Keep your bowels moving and detox
You can start off by incorporating a healthy green drink that's packed with nutrients and vitamins into your daily diet. In addition, relieve fluid retention, regulate digestion and promote good bowel movements with Sloane Inc. Pure Cleanse, either taken on it's own or mixed with Detox Tea. Containing Dandelion root and Chicory root, both are powerful natural antioxidants that are resistant to swelling. Wormwood leaf is anti-inflammatory, aids digestion and prevents hearburn while Milk Thistle is unique in its ability to protect the liver and acts in a similar fashion to detoxify other synthetic chemicals that find their way into our bodies, from acetaminophen and alcohol to heavy metals and radiation.Living toxin-free has never been easier or felt any better!
Bronzing is gold
If you aren't naturally brown, getting a touch of colour will highlight your awesome curves, muscle tone, and give you that extra confidence boost to stand tall in a bikini. However, this doesn't necessarily entail hours of roasting under the sun or checking yourself into a tanning salon. There are many ways to get a healthy glow before you step into the sun but airbrush tanning is my favorite simply because it's completely safe and gives natural looking results that can look fresh for an entire week! For extra bronzing to channel your inner 'Sports Illustrated' girl, go for Maui Babe Browning Lotion, a brown sugar based product that leaves your skin feeling moisturised, and looking positively golden brown! Not meant to be a sunscreen, don't skip your usual SPF and wear it on top of that to keep yourself well protected from harmful ultraviolet while frolicking under the summer skies.

Midsummer night dreams
Getting enough quality sleep is an important part of looking and feeling our best, so make sure you don't neglect this in the last week leading up to your biggest summer's bash. Restless nights can wreak havoc on your health and appearance especially if they are ruled by heavy partying, alcohol binge drinking or overloaded work stress. In addition, our fat burning hormones are at optimal levels between 10pm and 6am so unless you are asleep during these hours, you won't be reaping any of their benefits! These hormones also contribute to appetite and without a good night's sleep, lower hormone production can make you feel hungrier the following day when in actual fact you're not! With that much evidence that sleep deprivation and weight gain go hand in hand. make sure you get at least 7-8 hours if not more a night. Furthermore, wouldn't you want to be as relaxed as possible so that the nerves don't hit you before the right guy does?
* Selected as Editor's Choice Jul 2016*
You might also like: