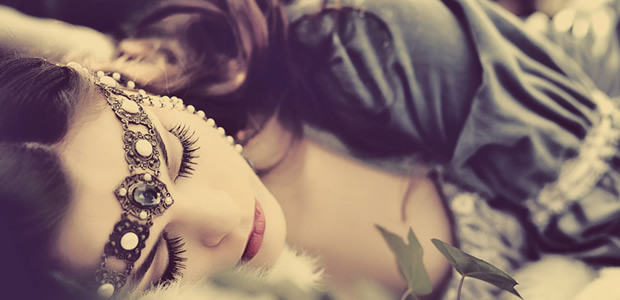 [By Anna Laurie]
I'm a self-confessed Skincare & Beauty product junkie and there's a tidy stash that I'm particularly fond of whenever I want to cut short my daily night regime but nevertherless want to wake up feeling and looking like a million dollar baby. These are my "Effortless Bedtime Beauty Gems", products that you one can quickly slap on overnight and leave to do their thing while you snooze, giving a whole new interpretation to the term "Beauty Sleep" and the moniker, "Sleeping Beauty"!
Sephora Colllection Sleeping Mask
Single use sheet masks are made of materials that adhere to the face like a second skin and are great at delivering a concentrated dose of beneficial ingredients to 'force-feed' the skin. However, the longer one leaves it on is not necessarily better. Sheet masks create a barrier to intensively infuse the skin with hydrating and anti-aging ingredients, but if the sheet mask itself dries out, it will start sucking moisture out from your skin and backfire the best of your intentions.Masked on, sleep uninterrupted and wake up rejuvenated with your choice of dermatologist tested Sephora Collection Sleeping Masks, each imbued with a different dermalicious substance from pearl to ginseng, lingzhi and rose. Individually sold to allow you to mix and match them to your heart's content, these overnight masks are easy to use and help achieved a brighter, more revitalized complexion, making you positively confident to hashtag #iwokeuplikeythis!
Available from www.sephora.com
Sloane Inc Sleeping Peel
You can tumble into slumber and turn those dreams for a porcelain mien into reality  having applied this product in the comfort that it will effectively help fight bacteria, tackle blemishes and increase the rate of natural dead skin exfoliation, while helping to promote moisturization with renewal of native skin collagen. The Sloane Inc Sleeping Peel an oil-free Aloe Vera gel with 15% Glycolic acid, is an overnight skin crusader that is highly beneficial for non-sensitive, normal to oily, and even acne proned skin types. The containing acids loosen the bonds between complexion dulling dead skin cells that accumulate with age, allowing them to shed,  thus leading to improved texture, uniformity of skin colour and added radiance. In addition, they also enhance the reparative mechanism of skin cells, allowing added anti-aging ingredients such as hyaluroinc acid to penetrate faster and work better.
Available from www.sloaneshop.com

Sloane Inc DermaBoost series
Remember how granny used to have a tipple of Yomeishu before bedtime? During sleep, while our metabolism slows down to let our bodies rest, restorative processes including repair works to skin cells damaged by environmental toxins, free radicals and ultraviolet rays, are running in overdrive. These powerful little pods are packed with scientifically proven peau-prettifying ingredients sure as pure Vitamin A, B and C to dramatically recharge skin elasticity to improve its tone, texture and glow. The star player gunning for gold in Sloane Inc Anti-wrinkle Boost is Acetyl hexapeptide-8, a variant of Argireline, composed of chains of amino acids that can affect how cells in the body work. When applied to skin, Sloane Inc Anti-wrinkle Boost is quickly absorbed and the serum's chemical composition causes the facial muscles to contract with less force, akin to the dermal effects of Botulinum toxin. A breakthrough skin rejuvenating elixir, this ultra-correcting wrinkle eraser radically relaxes facial tension and diminishes the appearance of fine lines and wretched wrinkles with regular use. Target to lift and firms fragile, weakened skin as well as restores collagen and elastin fibres while you snooze, it leads the path to graceful aging as an adjunct or sans Botox injections.
Available from www.sloaneshop.com

Laneige Lip Sleeping Mask
Are your lips too chapped for a lip balm to handle, covered with dead cells that simply won't exfoliate properly or just looking for ways to further nourish your pout? To help address these issues, Laneige carries a sweet berry smelling sleep-in mask for the lips, totally girlish and inviting. Apply it before bedtime and allow the Vitamin C-rich Berry Mix Complex of raspberry, strawberry, cranberry and blueberry extracts to work its magic on lacklustre lips, erasing dry, flaky dead skin while you sleep. With smooth and supple puckers the following morning, you'll be ready to lip lock with Prince Charming both in and out of your dreams.
Available from www.laneige.com
Nails Inc Overnight Detox Mask
Overnight masks aren't just meant for your skin. Give your nails some serious TLC with the Nails Inc Overnight Detox Mask, a revolutionary repair and regenerative treatment developed as an intensive overnight saviour for nails which are damaged or prone to weakening.
Its water-based formulation has the ability to hold high levels of detoxifying ingredients that penetrate deeply into your nail beds. A combination of powerful antioxidant actives such as Green Tea, Acai Berry and Spirulina, which has a high chlorophyll content, stimulates healthy nail growth and prevents chipping. Perfect for the recuperation of your ladies' claws, especially in between gel manicures while you're on a party break and fast asleep!
Available for www.sephora.com
* Selected as Article of the Month Aug 2016*
You might also like: