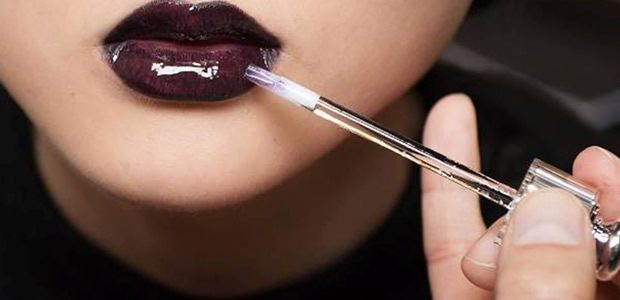 [By Anna Laurie]
It's official Fall now and although those living in the tropics aren't getting the chance to play dress up with cashmere ponchos, swing coats and thigh high boots, the new season certainly comes with a plethora of exciting beauty trends for your experimenting pleasure without breaking a sweat!

Nero eyes
One of your absolute beauty must-haves for Fall 16 is a black and greasy eyeliner. Try Urban Decay 24/7 Glide-On Eye Pencil. Created with 50 percent moisturizing ingredients suspended in a sophisticated waterproof formula, these cushiony, creamy gems deliver powerful, vibrant color that slides on smooth, blends well and dries to a long-lasting finish that won't budge. A classic flick will never be out of place or get it lightly smudged for an air of bohemian nonchalance. Dare any hot guy to stare straight into your piercing gaze with confidence, by lining your watermarks full and inky, shown on runway girls for Versace A/W16.
Glow on
Forget about that 3-step technique of shading, blushing and highlighting you learned from the doctrines of Contouring 101. Skin always looks best when it's flawlessly natural-looking and not heavily covered and overly contoured. There should be a little shine where there's normally shine, and a subtle peachy flush where there should be flush, neither too reflective nor overtly mattified. Worried that your cloudy complexion can't hold up to this perennial beauty trend? SmartX Lite can easily breathe new life into your otherwise tepid tone, especially when done over a series of comfortable, low down-time sessions in the Sparkling Skin Program. Complexion-transforming carbon dioxide laser delivered in an airbrush microspray pave the way to deep dermal benefits without the tell tale downtime. With instantaneous stimulation of your skin's natural cell renewal cycle, Smart X Lite laser treatment enhances skin texture and elasticity and improves uneven skin tone, blemishes and fine lines at the same time. With 6 sessions recommended to be done at monthly interval, this deceptively simple program leaves your skin confidently glowing and ready to bare.

Modern Gothic
It's not quite a groundbreaking move to switch to a darker lip colour in Fall, but when the palette gears towards black not red, berry stained lips is definitely one of the standout autumn trends to look out for. Covering hues from deep, dark berries and purples to pitch black, make sure your lips are smooth and lines-free for these unforgiving Macbeth shades to work their gothic magic. To resuscitate dehydrated, chapped and dull looking lips that fail to keep your lipstick fresh without bleeding, invest in Revitalift Lips, a truly revolutionary treatment that changes the name game. The procedure is simple and fast. Tiny drops of pure hyaluronic acid are infused into the lips and distributed evenly via a series of microinjections, leading to intense hydration and subtle plumping without increasing neither the size nor volume of your lips overtly. Improvements are apparent even after a single treatment, but a primary course of 3 to 6 sessions done at regular interval is recommended in order to build up your skin's reserves for optimal bio-revitalization and longer-lasting results.

Glitterati
It's not just for the holiday season, glitter is going to stay huge throughout Fall. From a light sprinkling to brow bone highlighting and even bejeweled pasties, it's modern day nymphs and fairies descending into the urban jungle. Apply black eyeliner pencil around the entire eye, then pat the desired amount of glitter using a small round brush, either a hint here and there or along the entire length. Let your imagination rise to the occasion with a royal blue or aquamarine glitter pot or take a more subtle approach with neutral colors such as copper, peach, and gold.

Dramatic Eyelashes
For Fall 16, lashes are set to be more popular than ever as the most luxe way to dramatize any look you choose. Showstopping dark lashes can be done alone or paired with light illuminated eye colors for an attention grabbing, high contrast look. Hardy & Co. Lush Lash is a multi-function lash and brow booster which will have you 'batting' a thousand eyelid in just 28 days. With an 'eyeful' of benefits under it's belt, this lash serum lengthens lashes by stimulating growth and strengthening existing follicles, darkens them by deepening their natural colour and adds more curve and shine with polymers and silk proteins.When used regularly, Lush Lash forms part of your daily lash regime to nourish and condition eyelashes, encouraging a longer life cycle and therefore, fuller lashes to nail this Fall 16 trend to a T.
You might also like: