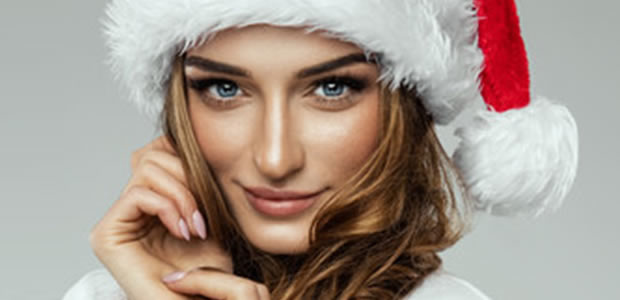 [By Cara Solis]
Were you green like a Gremlin watching the Victoria's Secret models strutting down the Paris runway with their clear bright complexions and traffic-stopping bodies in their recently aired 2016 show? Don't us all. Whilst I can't promise you those dangerous hot curves, there are ways to help put your skin right on track in time for the holidays. The better your skin look, the better your party make-up will be at the barrage of parties waiting round the corner. It may be purely wishful thinking to go from a size 16 to 6 in all but 20 days to Christmas, but there's still ample time to ramp up your skincare regime and get your complexion ready for those expected or unexpected under-the-mistletoe moments.

Hydrate yourself well
From Thanksgiving weekend to the days leading up to the year end festivities, it's easy to cheat once too often and indulge in everything from salty foods to sugar laden snacks and alcohol. Not only do these extra unhealthy calories sabotage your weight and waistline, they dry out your skin and can lead to the forming of fine lines and increase the chance of breakouts.
Make sure you watch your diet and keep yourself well hydrated with at least eight glasses of water a day to give your complexion a healthy boost ahead of the office Christmas party.
Scrub away the wintry grub
Dry flaky winter skin needs a good polish to reveal a brighter, more luminous complexion and Fig & Yarrow facial scrub is the perfect exfoliator for all skin types especially those with sensitive combination skin. The scrub is completely natural, formulated with oats, honey, clay, and soothing essential oils such as lavender and chamomile. Just add some water to a small amount, mix with your finger, and gently massage into your face with small circular motions. Not only will your skin be left feeling softer and looking brighter, the subtle hint of lavender and honey simply smells divine!
Available from figandyarrow.com
Prep your skin with home spa goodies
The use of gold for various skin treatments was very well documented by the Egyptians, Romans and Japanese since early times. Gold is added to modern skin care products for its anti-oxidant, anti-inflammatory and anti-aging properties. This precious metal restores the elasticity of tissues by slowing collagen depletion and the breakdown of elastin to prevent sagging skin. In addition, it stimulates cellular growth to regenerate healthy, firm skin cells with definite tightening and rejuvenating effects.
While mere mortals like us are most unlikely to fork out $700 for a pop of 24K gold facial which VS angel Bar Refaeli swears by for her angelic complexion, pampering your skin with a Midas touch of Sloane Inc Gold Glow Recovery Mask is well within your reach. With a cult following of beauty insiders in the know, this incredibly luxe skin recovery cream mask is power-packed with multivitamins and generously sprinkled with pure gold specks and Sea Buckthorn Berry which helps increase skin moisture levels and oxygen uptake. Slather on a generous amount of this soothing complexion-enhancing product regularly and pre-party will surely leave you with luxuriously luminous skin and raised your glow factor by a notch or more!l
Available from sloaneshop.com

Peau perfection with skin boosters
Like a plant that needs water at its roots to have a visible effect on the leaves outside, depositing moisture into the deeper levels of your skin will lead to remarkable changes on its surface. Skin boosters are a revolutionary approach paying tribute to the exact same concept, increasing hydration levels within the skin to deliver lasting moisturisation and improvements on the surface for a fresh, natural look. With age, the quality and quantity of Hyaluronic Acid (HA) which maintains optimal hydration of the skin diminishes over time. Recommended to be done at 4-weekly interval over a period of 3 to 6 months, Revitalift is the scientifically proven, cutting edge treatment of choice for total skin rejuvenation with nary any downtime or telltale signs of having 'the works'.
By using a special technique to deposit small quantities of a soft, naturally occurring HA all over, there's gradual and subtle plumping which lightens wrinkles, erases fine lines and improves the skin's firmness, elasticity and radiance. Besides providing an oasis of intense hydration, these microinjections stimulate skin fibro blasts to produce more of the bodies' own Hyaluronic Acid, Collagen, and Elastin, with ongoing benefits that go well beyond the immediate effects of the primary course of treatment.
Available at sloaneclinic.com
* Selected as Editor's Choice Dec 2016*
You might also like: