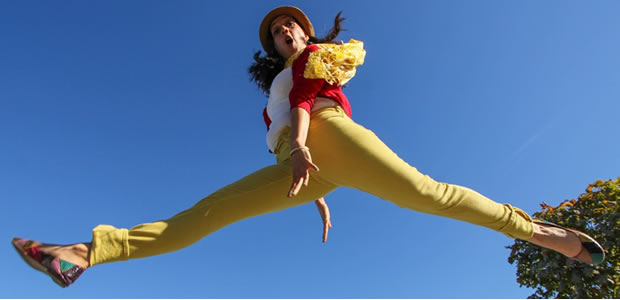 [By Claudine Ma]
A new year is like the first chapter of a book, and we ourselves choose what to write in it. Wouldn't it be great to start afresh and pen down choices that set the right tone for the 365 days ahead? If you're stumped with a writer's block from the holiday shenanigans, here are 5 resolutions that aren't too tough for you to start 2017 on the right foot.

De-clutter your life
Everyone hates to admit this but more often than not, our lives are cluttered with unnecessary things. Our wardrobe is overflowing with stuff we wouldn't wear again, ever. Our hearts are holding on to baggages of unresolved issues from our past. Our time is usurped by our addiction to social media and useless trivia. Imagine the freedom we would experience if we took the time to de-clutter our lives? To start 2017 on the right foot, stop holding on to your past and purge out burgeoning excesses accumulated over the years. De-cluttering isn't a one time event but a way of life. Once you've tasted the joy of sieving out unnecessary clutter, you'll certainly embrace the notion and be on the lookout for more ways to de-clutter!
Far from the madding crowd
Adopting a healthy lifestyle by exercising ranks high as one of the top resolutions commonly made, alas with equally high failure rate. You'll be more likely to keep that and fulfill your goal if you plan ahead. Instead of making a beeline to the gym over-crowded with fellow resolutioners and getting all worked up rather than a good workout, seek out alternative ways to exercise far from the madding crowd. Brisk walking is an excellent option and allows one to engage in fitness at the leisure of his own pace. Working out at home with a self-explanatory fitness instruction video is the perfect starter kit without the fear nor stress of competition. And for a hollistic approach to fitness that's beneficial to the body, mind and soul, try yoga or pilates to up your game.
Read More: Countdown to a Killer Body

Go on a dietary detox
With all the indulgence over the holidays, start the year right with steps to get back on track. Detoxification support doesn't need to consist of a rigorous plan. Some simple tweaks to your daily dietary intake that do not require a lot of effort can support detoxification remarkably well. Maintain adequate hydration with clean drinking water and consume enough fiber each day with five to nine servings of fruits and vegetables, supplemented with nuts, seeds and whole grains. Cruciferous vegetables, berries, artichokes, garlic, onions, leeks, turmeric and milk thistle, and drink green tea are great choices as these foods support detoxification pathways. Eat naturally fermented foods such as kefir, yogurt, kimchi and sauerkraut, or take a high-quality probiotic to help the body manage toxins from microbes that live in the gut.
Supplement your body detoxification plans with Sloane Inc Pure Cleanse to help relieve fluid retention and regulate digestion and drainage to ensure bowel regularity. This all natural digestive aide contains Dandelion root and Chicory root, both powerful antioxidants that are resistant to swelling while woodworm leaf has anti-inflammatory properties, aids digestion and prevents heartburn. Together with Milk Thistle which helps enzyme formation to increase bile production, decrease inflammation and soothe the mucous membranes throughout the body, living toxin-free has never been easier or felt any better!

Don't take your best feature for granted
More often than not, we are focusing so much on improving our flaws that we tend to neglect or take for granted our best facial features. Even the best of heirloom silvers will tarnish and become lacklustre with time, and maintenance is key to keep the admiration going. If you're often praised for your silky hair or frequent experimentation with hairstyles and colours in a 'Katy Perry way', maintain the thickness and density of your crowning glory with Revage 670 Laser, an FDA-approved low-level laser therapy that stimulates blood flow to hair follicles with it's 30 laser diodes that rotate 180 degrees around the scalp. The enhanced blood flow stimulates dormant hair follicles into the active growth phase while encouraging cellular and tissue regeneration for thicker, suppler and more durable hair shafts. Suitable for both men and women and all skin types, skin and hair colour, clinical studies have shown that the Revage 670 Laser can increase hair density by 40% and an impressive 85% success rate in halting the progression of hair loss.
Read More: 3 Beauty Treatments that Truly make a Difference after 30
Treasure bonds made and give thanks
Most of us would willingly give our own life for the survival of a family member when the situation arise and yet, more often than not, we lead our daily lives too often as if we take our family for granted. Start the new year on the right foot by dedicating your time to people that appreciate you instead of wasting them on frivolous acquaintances. Quoting from motivational speaker Jim Rohn, "Your family and your love must be cultivated like a garden. Time, effort, and imagination must be summoned constantly to keep any relationship flourishing and growing."
Happy 2017!
* Selected as Article of the Month Jan 2017*'
You might also like: