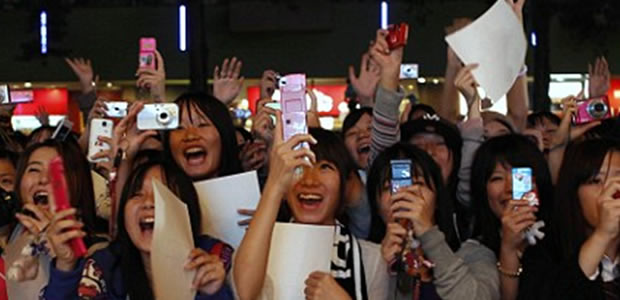 [By Lin Sook Kim]
Whether he's a pretty face fronting a boy band or a leading actress on prime time tv, Korean idols are well known for their out-of-this-world complexions. There must be something that these Seoul mates are doing right, so you might want to look into their beauty regime if you desire softer and smoother skin that's absolutely 'pore-fection' this spring!

Eat your way to skin that glows
With his breathtakingly beautiful, androgynous good looks plastered all over magazine covers and billboards at every corner of Gangnam, It's hard to imagine that the poster boy of Korean 'yeppeun namja' (pretty boy) Kim Jong Hyun of Shinee's fame didn't always have flawless skin. In fact, he only noticed remarkable improvement to his complexion after he cleaned up his diet by cutting back on junk food such as pizzas and soda, consuming large amount of vegetables including tomatoes and concentrated lettuce juice.
"Tomatoes contain carotenoids which are potent anti-oxidants with major dermal benefits," Says Dr. Michelle Lim, medical consultant with The Sloane Clinic. "However, as carotenoids are also the plant pigments responsible for the bright red, yellow and orange hues of tomatoes, eating copious amounts can impart an orange discoloration to the skin especially over the palms and soles."
Crystal Tomato is a once-a-day oral skin supplement that contains 'colourless carotenoids' extracted from a unique breed of non-genetically modified white tomatoes painstakingly cultivated after a decade long scientific research and development. These colourless carotenoids will not result in skin discoloration and is a potent, naturally occurring ingredient for skin whitening. In addition, Crystal Tomato also contains L-cysteine, an amino acid which activates the natural production of glutathione in your body to further boost the lightening of dark pigmentation and even out patchy skin discoloration for that desirable all-over alabaster skin tone.
Tea to the rescue
Singer-actress Hyolyn of Korean girl group SISTAR is often touted as one of the sexiest pop idols around, with an impossibly svelte and toned figure that can make even a trash bag looks good. According to her publicist, Hyolyn drinks Omija tea everyday, and usually topped that off with pine nuts. Omija tea also known as Omija hwachae or Omijacha is a Korean traditional drink made of Omija (Schisandra chinensis) also commonly referred to as red Korean berries, These anti-oxidants rich berries are said to contain five different flavors of sour, bitter, sweet, spicy and salty, are harvested in August and September and made into a concentrate or dessicated and dried. The concentrate can be mixed with water or the dried berries soaked in hot water to make the tea that leggy Hyolyn cannot go without.
Teas are great beverage options to supplement the best of your weight loss efforts. Sloane Inc Burn Metabolism Boosting Tea (14 Days) is a metabolism booster that helps tackle days when you're feeling sluggish and bloated. Made with the finest ingredients including sencha green tea which are rich in catechins, it aids toxin elimination, optimizes digestion and accelerates fat burning while you engage in your normal routine activities, making it easier to shed extra pounds in a fuss-free way to fight flab and stay in the pink of health!

Seek out traditional goodies
Girl's Day Minah may be every inch your modern day Cinderella, but when it comes to her beauty mantra, she's a firm believer of the age old Korean tradition of using rice water to cleanse your face. Rice is rich in a complex of B vitamins called 'inositol' that helps promote cell growth, slows down the aging process and stimulates blood flow, the perfect recipe to tighten pores and give you that desirable glow of healthy looking skin. Ginseng and Pearl powder are another two revered ancient wellness ingredients for noble dynasty ladies of the past. As metaphors for good skin go, pearls rank right up there with milk and babies' bottoms. Who wouldn't want their faces to resemble the rare, lustrous beads of unparalleled luminosity?
Pearl powder has been shown in studies to not only improve the appearance of aged skin but excels in lightening and evening skin tone. Combined with Resveratrol, a natural skin brightening polyphenol derived from red wine and mulberry, Sloane Inc DermaBoost Resveratrol & Pearl is a professional-grade, high-potency skin whitening complex that transforms complexions from drab to fab, imparting upon lacklustre visages a luminous and youthful glow that makes you feel right at home while roaming the streets from Dongdaemun to Namdaemun.
Seal the deal with oils
Despite a super hectic schedule all year round including a much anticipated solo album in the making, SNSD Seohyun remains impossibly fresh-faced with not a single blemish in sight from bare-faced Instagram upload to random paparazzi shot. To maintain her dewy complexion all year round, Seohyun applies a thin layer of oil immediately after she double cleansed her face to trap moisture in for intense hydration.
If you're still not receptive to the idea of using facial oils especially in the warmer climate, consider Sloane Inc Skin Drink as an equally effective option. Harnessed from pure, naturally-sourced olives that's rich in antioxidants, this 100% all natural, preservative-free skin hydrator is perfect for all skin types including sensitive and problematic, combination ones. Being non-comedogenic, it delivers vitamins and minerals for intense moisturisation without the fear of clogging pores and causing breakouts. Not only does it saturate skin with fluid replenishment, it protects from free radicals and repairs initial signs of ageing to ward off fine lines and wrinkles.
Using medical knowledge to your advantage
From a newly debuted beauty queen (1st runner up for Miss Korea 1989) to a critically acclaimed, award winning acting thespian, 46 year-old Go Hyun Jung who could've easily passed off as someone half her age has always been rife with speculations of having works done throughout her illustrious career. While plastic surgery rumors used to cause her much unhappiness, a new found confidence that comes with age and positive experiences led her to be upfront with her perchant for dermatologist and spa visits to help maintain her youthful looks.
If creams, lotions and potions alone aren't making the cut to garner you with the kind of results you desire , perhaps it's time to explore viable options that are based on medical knowledge and backed up by board approved technologies. If this is your first foray into the world of Aesthetics Medicine which can be overwhelming to the virgin user, the Laser Peel is a user friendly starter kit that's safe and effective with nary any downtime. By using Korean-inspired nano-carbon technology, it is able to refocus gentle yet potent laser energies to reduce sebum production and stimulate closure of pores, leaving your skin a little less flawed and smoother to the touch, raising the bar of your beauty standard a notch closer to that set by your fave Korean idols….
* Selected as Article of the Month Feb 2017*'
You might also like: