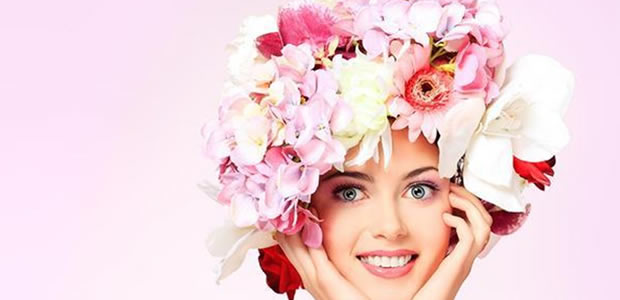 [By Alicia Liu]
As the saying goes, "Beauty is only skin-deep", but the importance of skin goes a lot deeper. Most of us tend to regard our skin as just our body's visible outer layer instead of the largest living organ.Like any other internal organs of our body, your skin can be healthy or ill, well-fed or malnourished, and can undergo wear and tear with age or abuse. While you can't control your age, you certainly can control numerous other factors that accelerate the aging process. Unlike the other organs of your body, you can also apply 'protectors' and 'enhancers' directly to the skin, and for this simple fact alone, there's absolutely no reason why you can't have healthy, attractive skin throughout your life. While everyone's skin is unique and there are no beauty products that suit everyone, there are certain rules that apply no matter what your skin type. Here's our round up for ways to awaken your hibernating skin this spring, to keep your complexion radiant and glowing, looking it's best at any given age.
Curb your sweet-tooth cravings
You're what you eat and the state of your complexion is reflective on how 'clean' your diet is. Refined sugars are the worst culprits standing in your way to healthy, glowing skin this spring. Aim to replace sugary sweets and snacks with nutrient-dense foods like fruit, vegetables and healthy sources of Omega-3. According to Dr. Toby Hui, senior medical consultant with The Sloane Clinic, unbeknown to even health fanatics, protein bars are one of the biggest beauty offenders. "Protein bars are essentially candy bars dressed and marketed as a healthy option," he warns, "The sugar rush will lead to an insulin spike, aggravating acne, wrinkles and even skin allergies. A much healthier option will be a handful of almonds or a piece of whole fruit such as a banana or medium sized apple. You'll be eating a whole lot better for your skin, and you'll feel more satisfied and charged with energy."

Scrub away the wintry grub
Exfoliation, which is really just a fancy word for a good, thorough scrub, is one of the surest and easiest ways to pave the ground works to good skin this spring. By removing the dead skin cells, it helps expose the new and radiant skin underneath the surface, and is also an excellent way to prep your skin to allow skincare products to penetrate 20 percent better! If for some reason you don't like gritty formulas, which should largely be avoided if your skin is sensitive, try an enzymatic peel which contain fruit acids from pineapples, papayas and other exotic fare. The Sloane Inc Skin Superfood Pumpkin Purifying Peel is power-packed with enzymes harvested from this superfruit and offers turbo-charged exfoliation for clogged complexions in need of a dermal SOS. Bursting with powerful antioxidants to quench dull, ageing skin, this enzyme treatment can help reduce the appearance of fine lines, pore size, improve texture and tone, and treat breakouts when used weekly. Tailoring to your own specific needs, let it sit on your skin for anywhere between 5 to 10 minutes to dissolve away grey, uneven patches, leaving skin positively radiant and glowing to wear the most desirable makeup trends for S/S '17.
Go beyond the basics
Basic, for lack of a better word, is just basic.
If you're a cleanse, tone and moisturise kind of girl, perhaps it's time to spruce up your basic beauty regime this spring if you're looking for results that are anything but mediocre. An easy way to introduce pharmaceutical grade dermal goodies which can help realise the 'hidden potential' of your skin without switching out your usual skincare basics is by adding on gems from the "Sloane Inc Dermaboost" series. For instance, Sloane Inc DermaBoost Pure Vitamin C is a professional-grade, high-potency, pure vitamin C that goes above and beyond brightening to deliver skin clarity and correct uneven skin tone for transformative, visible results for all skin types. Great skin is now as simple as adding a small spatula of this easy-to-use anti-aging and skin rejuvenating vitamin C powder to your own moisturizer to boost your skin health and radiance instantly.
For overnight repair works without fuss, apply the entire contents of one capsule of Sloane Inc DermaBoost Pure Vitamin A to cleansed skin to stimulate micro circulation and vitality, followed by your own moisturizer to seal in the goodness. These unassuming little pods are packed with potent peau-prettifying vitamin A to dramatically recharge skin elasticity to reverse the signs of sun damage and dermal aging. They directly target skin fibro blasts to visibly improve the appearance of fine lines and wrinkles at the surface level and beyond, while working overtime to strengthen the skin's regenerative ability, helping to counteract the visible signs of aging by increasing skin's natural moisture barrier and restore elasticity to sagging skin. It certainly pays to look beyond the basics, if you desire glowing skin this spring.
Supplement from within
A healthy diet and good skincare regimen can take you pretty far when it comes to keeping your skin beautiful, but we could all use a little help here and there, and supplements are an easy way to support your already healthy habits. What's trending now in both natural health and medical circles is Glutathione, a powerhouse molecule often nicknamed as "The Mother of all Anti-oxidants". In fact, Glutathione is so pivotal to our health that the level of it in our cells is becoming a predictor of how long we will live! Amongst its slew of benefits include anti-aging effects on the skin, with visible overall dermal whitening when taken regularly, to impart on lacklustre complexions that unbeatable healthy glow and skin clarity. In addition, newer studies have demonstrated the superiority of a sublingual (under the tongue) route of consumption over traditional oral intake.

Make sound investments
"Nature gives you the face you have at twenty; it is up to you to merit the face you have at fifty."— Coco Chanel.
To embrace graceful aging, we should aim for our skin to look it's best at any given age. What you do at 25 will determine the face staring right back at you in the mirror when you hit 50. Apart from cultivating good skin habits such as sunscreen application, smoking cessation and removing all traces of makeup before you hit the sack, making sound investments to 'ageproof' your skin early in life is a great way to soften the brutality of time.
Rejuvenate, refine and even out your skin tone not only in spring but for the seasons that follow with the Brilliant Skin Program which engages the Fraxel Light Laser, designed to refresh dull, fatigued complexions and radically correct skin discolouration and texture irregularities without significant downtime.This brilliant micro laser peel utilizing premiere Fraxel technology erases stubborn pigmentation together with surface imperfections such as pores, lines and textural irregularities. At the same time, the far-reaching laser energy supercharges cellular renewal, self-repair and collagen replenishment, to bestow upon users a come-hither radiance and a healthy glow that'll keep everyone around you second guessing your age and beauty secrets too!
* Selected as Editor's Choice Feb 2017*
You might also like: