[By Sarah Fenandez]
Awards season is not just about getting your craft recognised with accolades of rave reviews and a chance to bring home a little golden statue to call your own. Especially in recent years, Oscars night is probably one, if not THE biggest fashion event on Hollywood's calendar. With every major design house from Armani Prive to Atelier Versace vying for celebs to wear their creations, red carpet looks are spot on in forecasting what's in, and what's not in the year ahead. Here's our round up of this season's best red carpet moments that you should take note of, for red hot trends that you can work on and call them yours!
Embrace your natural features
Throughout the span of her career, Halle Berry, the first black woman to be honored a Best Actress award 15 years ago for "Monster's Ball" is perhaps best remembered for her iconic slick pixie crop that spawned a thousand copies in the late 90s to early noughties. So when the acting thespian arrived on the red carpet with a head full of almost unruly bouncy curls, it was an unexpectedly refreshing departure from her usual coiffure, making heads turned for all the right reasons. Berry said of her new look— "The dress is glamorous with a sense of romance that made me feel feminine and fresh. With this look, I celebrate my natural hair by allowing it to be natural and free."
As the world driven by social media obsession continue to be heavily influenced by popular culture, our perception of Beauty takes on a narrowing tunnel vision, with the unfledging desire and constant pursuit to morph ourselves into cookie cutter replicas without a trace of originality. "Beautification procedures should rightfully serve to enhance your natural features to transform you into a better looking version of yourself and not a completely different looking person." Explains Dr. Tan Ying Chien, consultant plastic surgeon with The Sloane Clinic. " The desirable end results of any aesthetics treatments, major or minor, should therefore come across as a refreshed upgrade and not one that is obviously altered."
Less is often more
Nicole Kidman is a red carpet veteran and she certainly lived up to her reputation at the 89th Academy Awards, serving one of her best looks ever in an embellished pale blush Armani Prive couture gown that appears almost nude against her alabaster skin. A couple of years back sporting movements of a glacier on an incredibly taut visage, Nicole was getting a lot of flak as the poster child of "Botox gone wrong". Staying true to the testament that less is often more, the best supporting actress nominee is looking a lot better these days, refreshed and age-appropriately youthful looking without the dreaded paucity of facial expressions.  While Botox is an excellent tool with amazing results to boot, undesirable tell-tale signs are aplenty in the hands of an inexprerienced or overzealous injector.
Microrefine which engages micro-Botulinum Toxin injections for refining and rejuvenating faces is the celebs' preferred pre-red carpet treatment of choice, for the glow of youth without the risk of frozen movements. Miniscule doses of BOTOX® are evenly distributed all over the face and neck to diminish fine wrinkles and improve the sheen and suppleness of the skin. It works by causing sweat glands and sebaceous glands to shrink and atrophy, resulting in smooth clear skin without loss of movement in major facial muscles.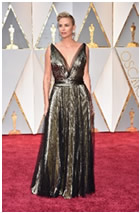 Don't neglect your neck & décolletage
Our South African glamazon Charlize Theron might have been off the red carpet radar for quite some time, but it certainly looks like she had gone nowhere. In a gold lame pleated Dior gown with a deep V neckline and accessorized simply with a pair of oversized earrings, statuesque Charlize is all poised to reclaim her fashionista legacy, probably only upstaged by the little gold man himself!
Read More: 6 Solutions For A Younger-Looking Neck
To work a dress style that'll without a doubt draw eyes to your neck and décolletage, make sure you prep your treasure chest to make all the stares worthwhile. The Ultherapy Décolletage is the premium non-invasive, FDA approved treatment of choice to age-proof your neck and chest by improving the fine lines and wrinkles over the neck and cleavage. By employing focal ultrasonic energies, Ultherapy stimulates the natural formation of collagen and elastin within the skin's foundation, with appreciable results visible 3 to 6 months after a single session. Alternatively, opt for Infinity Neck Lift, a novel neck threadlift technique to tighten saggy jowls and redefine jawline. This treatment uses fine threads that safely dissolves with time to lift skin but more importantly, these threads stimulate collagen production for a longer-lasting result.
* Selected as Article of the Month Mar 2017*'
You might also like: