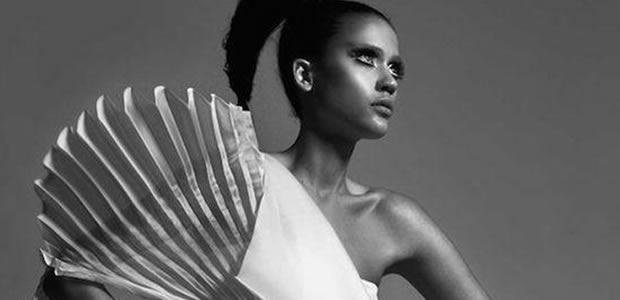 [By Celeste Koudros]
Ex first lady Michelle Obama was often cited as a powerful dresser and it was at the inaugral ball that she debuted her white, floral, one-shoulder-wonder gown which spawned a thousand copies in that very year of 2009. It seems like the toga style is poised for a strong comeback this yearif trends spotted at the recently concluded Mat Gala is anything to go by.Depending on how you wear them, one shoulder dresses can be chic and glamorous or more casual and effortless. Either way, though, they come with a generous helping of sex appeal, showing off a glimpse of skin in a provocative yet not excessive way. Although it doesn't appear to be particularly hard, here are some essential fashion tips you need to consider to always look impeccable and stylish, pulling off this Grecian formula with pizzazz and panache.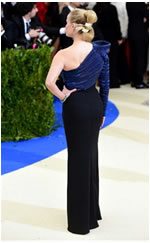 Play up your strengths
Reese Witherspoon in Thierry Mugler
One shoulder dresses have a beautiful neckline that unfortunately does not suit every body shape. It's particularly tricky if you have big breasts, so when you try it on, make sure that it fits you and flatters your body to avoid looking like a shrink wrapped salami. Besides, the cut, pay close attention to the fabric as well. For taller girls, choose a soft, flowy fabric like chiffon and silk which will drape your statuesque frame impeccably. Petite ladies such as American sweetheart, Reese Witherspoon can opt for a heavier structural style in a stiffer fabric like brocade and velvet which lends an edge of chic without compromising on your femme fatale allure. A woman that is particularly fond of her shoulders should proudly flaunt and draw attention in a style that is completely off the shoulder, and someone who is partial to her back can easily find a one-shoulder dress that dips low behind for the best display of her strongest asset.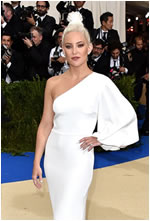 Coif carefully
Kate Hudson in Stella McCartney
The correct hairstyle will make or break the impact of the one shoulder outfit. An attractive up-do such as the uber chic updated topknot created by celebrity hair guru Peter Gray for Kate Hudson is an excellent choice as keeping the hair out of the way allows the unique bodice of the dress to shine.
If you absolutely have to keep your cascading tresses down, it should be worn either behind the shoulders or swept to one side,channeling the iconic old Hollywood glamour of Rita Hayworth and Veronica Lake.
For ladies with shorter hair, soft curls that keep the style up off the shoulders is a simple yet elegant choice that will not detract from the dress.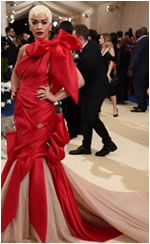 Don't go overboard with accessories
Rita Ora in bespoke Marchesa
The limelight of this year's Met Gala is on Rei Kawakubo (Comme des Garçons), with the focus being on the avant-garde designer's technique with silhouettes, draping and fit. Rita Ora completely nailed the theme with her choice of a dramatic woven red silk and tulle ribbon dress by Marchesa, letting the one shoulder couture wonder takes centrestage by keeping accessories to a bare minimum. While a statement necklace is not an ideal choice, attention grabbing earrings can be an attractive pairing with an off-shoulder number.When the neck becomes a key focal point, make sure its appearance doesn't reveal well-hidden numbers. With three options to address neck woes from mild to borderline unsalvageable, restoring the youthful suppleness and sensual contours of this oft-neglected area is made possible with the highly customized Neck & Jaw Program conceptualised by beauty gurus from The Sloane Clinic. Not only does it tackle neck lines and saggy, crepey skin, there's remarkable improvements to skin quality with textural gains and enhanced elasticity.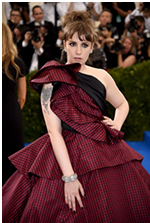 Covering up is a big no-no
Lena Dunham in custom Elizabeth Kennedy
The draw of a one-shoulder or off-shoulder dress is the glamorous display of a woman's shoulders, collarbone, and back. Because this is the chief appeal of the style, it is important not to cover up its biggest asset with a stole, scarf, or bolero. Throwing something over an off-shoulder dress is the surest way to kill a special outfit, making it frumpy and disconcerted. The best looking arms to complement this style are toned and firm like those of Charlize Theron, Halle Berry and J Lo, with nice definition but not overtly muscly. A number of ladies already do have toned arms but for the majority, all the definition is hidden under a layer of fat. In order to show off nicely shaped arms, you will need to strip off that blubber.
CoolSculpting PLUS might be the missing puzzle that you are looking for. Also known as cryolipolysis, this procedure in a nutshell is 'fat-freezing'.  With a narrower suction cup suitable for tackling smaller pockets of unwanted fat such as batwing arms and flabby thighs, the applicator is positioned precisely to such target areas before it starts reducing the temperature to attain the right temperature to selectively freeze the fat cells here. Extensive studies done and presented show a 22% of fat reduction with this FDA approved technology which translates into centimetres lost in arm circumference, bidding a real farewell to those bye- bye arms that are certainly a beauty bane to the one-shoulder look.
You might also like: