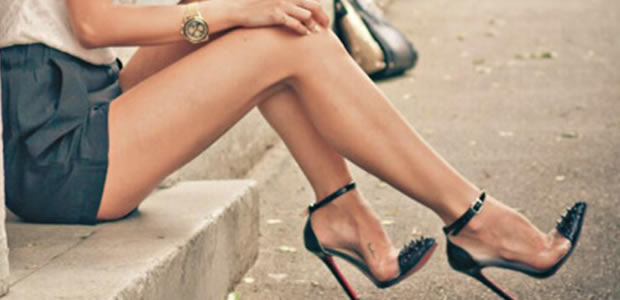 [By Tricia Helen B]
Temperatures are getting higher and hemlines are getting shorter. If your legs aren't exactly summer ready, it's time to start cracking to get them as perfect as they can possibly be!

Be part of the Squats Team
If you want a pair of toned legs to wear your butt grazing summer shorts with pride, girl you got to work hard for them. Squats should be your best friend from now till then because they can literally transform the shape of your legs and butt to work those skin baring trends to a T. To lift, tighten and make them as tone as possible, perform 4 sets of 20 squats 3 to 4 times a week, making sure that your posture is good and your butt dips low! You don't need to be in a gym to squat your way to a Queen Bey's booty and Tay Tay's gams, and a squat hold is the most rewarding way to spend your free time while brushing your teeth, isn't it?

Sculpting to perfection
If time is not on your side or the usual 'diet and train' is not making the cut, identify your trouble spots and tackle them head on with the latest aesthetic offerings. For instance, you can reduce the fat around chunky thighs with Coolsculpting PLUS, a non-invasive body sculpting treatment that uses cold to lyse up to 22% of fat cells in one single session. For fat freezing, the FDA-approved, gold standard Zeltiq technology and not a generic platform should be employed to deliver guaranteed results. By combining this with lymphatic drainage and skin regenerative therapy, CoolSculpting PLUS goes the extra mile to ensure optimal groundworks are laid for proper drainage of metabolised fat cells and better skin elasticity and tone over the treated area(s), translating to better results achieveable over a shorter period of time!

Smooth as silk
Designers and celebrities alike are all cra-cra about the "pelvage" at this moment, thigh high slits or similar styles that flaunt a lot of legs with a possible glimpse of the hip or pelvis. It's not just the shape, but the texture of those gams matters in order to up the ante of the peek-a-boo game. Stretch marks rank way up as one of the aesthetics woes that affect up to 70% of women and mar the beauty of a good pair of pins. The FDA approved Fraxel Restore Laser sdaves the day as one of the most effective treatment against stretch marks, using state of the art non-ablative fractional laser technology to stimulate collagen and elastin synthesis while resurfacing almost 20% of the undulating skin surface. This helps to remove damaged tissue with proven accumulative benefits following each successive treatment, making sure your legs are gorgeous enough to work every pool party invite at the Hamptons this summer.

Tame the fuzz
Epilation is an all important step to get your mile long legs ready for summer. While many turn to shaving and waxing as they may be the more convenient and least costly methods around, the effects are temporary and not without their own set of side effects. Razor burns or accidental cuts is a common downside of shaving, and having red and inflamed legs is certainly not part of the summer's game plan. Waxing may also cause a similar issue of skin irritation and like shaving, ingrown hair is another extremely annoying skin condition that one got to deal with. To avoid the hassle for year round smooth, hairless legs, invest in the Removal and Restoration Program conceptualised by the hair specialist from The Sloane Clinic. This comprehensive, problem orientated approach to grooming combines permanent laser hair reduction therapy with a series of gentle yet restorative depigmentation lasers to not only ensure your skin is fuzz-free, but also brighter and smoother. By selecting the appropriate lasers to suit your skin type, both lighter and darker toned ladies can now be treated effectively for a pair of modelesque looking pins that'll bound to draw glances of admiration and envy.

The Midas touch
If you aren't naturally tan, adding a touch of colour to your legs will bring out the goddess in you as a little body makeup goes a long while in making them look more even, slimmer and hides surface imperfections such as spider veins and post traumatic marks. Glamour girl Khloe Kardashian recently shared her leg perfecting trick on her website— "Sally Hansen's Airbrush Legs is FLAWLESS legs-in-a-can, dolls! My glam squad uses it whenever I'm shooting to give my legs an even, glowy effect. It totally blurs out any little veins or freckles, and gives my tan a boost. It literally takes 60 seconds to dry and washes off in the shower.I use a combo of the Beige Glow and Tan Glow shades to get the best match for my skin tone," says Khloe. And the best part is this is a drugstore gem and not some prohibitively expensive beauty stuff that we tend to associate the Kardashian-Jenner clan with!
You might also like: