[By Nadine Harper]
If Coco Chanel, the epitome of timeless, classic style and good taste had her way, she would've dressed all women with strands of iridescent pearls. Besides being a revered precious embellishment especially in the East, traditional Chinese and Ayurvedic medicine have long advocated ingesting the marine treasures in pulverized form for luminous, glowing skin. This deep sea treasure has been scientifically proven to be an extremely potent antioxidant, boosting the body's own enzymes and reducing peroxidation. Rich in amino acids, minerals and proteins, it also helps replenish and rebuild the skin's natural collagen, and is an anti-ageing hero which can be used from top to toe. If you aren't quite ready to crush and stomach your Mikimoto, here are some of our favourite pearl-infused beauty products to get your skin glowing with a pearlized sheen.
Sephora collection Pearl Invisilk Mask
If you're a girl on a budget but would love some pearly goodness nonetheless, Sephora's line of natural fiber masks might be a good way to experiment. The White Pearl Brightening Mask utilises Invisilk technology which combines two high-performing fibers, Seba and Tencel to perfectly hug facial contours for better and more even delivery of the active ingredients. It brightens the skin with natural-origin pearl to help create a more even complexion and visibly minimize irregularities.
Available from www.sephora.com
La Mer Cleansing Foam
For the IT girl who yearns for the best things in life, it's hard to find another cleanser that's more luxuriously decadent than La Mer cleansing foam.Designed with sea algae fibers and white pearl powder, it gently purifies and energises skin for a bright, healthy-looking complexion. Apply over damp skin and gently massage in circular motions to form a rich foam, rinse thoroughly with warm water and voila— you'll get the feel of a pampered diva, trust me!
Available from www.cremedelamer.com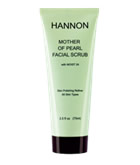 Hannon Mother of Pearl Facial Scrub
Recommended to be used once a week, Hannon mother of pearl facial scrub contains a blend of precious, grounded Polynesian mother of pearl and natural organic oils to create a luxurious pore refining cleansing scrub to transform lacklustre skins favourably.
By gently but effectively removing pore-clogging dirt and oils that are trapped within the dead surface skin cells, this pearly beauty gem leaves the new and exposed skin feeling cool, clean and healthier looking.
Available from www.hannon.co.za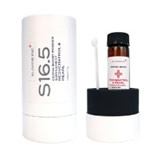 Sloane Inc DermaBoost Resveratrol & Pearl
For unparalleled luminosity that makes heads turn, the latest cult fave got to be Sloane Inc Dermaboost Resveratrol & Pearl. Containing not one but two skin superfoods, Resveratrol, a natural polyphenol derived from red wine and mulberry is integrated with superior fresh water pearl powder rich in 18 amino acids, eight of which cannot be synthesized by the human body. Often touted as the anti-aging miracle of the century, Resveratrol has super potent skin whitening effects, working in harmonious synergy with our coveted deep sea treasure to not only improve the appearance of aged skin, but excels in lightening skin pigmentation and even out patchy skin tone. A professional grade, high potency skin brightening complex, great skin is now as simple as adding a sprinkle of this easy-to-use formulae to your moisturizer to boost your skin health and radiance instantly, transforming drab complexions to a fair, iridescent and youthful state.
Available from www.sloaneshop.com

Aqua Blanc Brightening Cream
A superb lightweight face cream that is suitable for all skin types, Aqua Blac Brightening Cream helps to transform the skin by refining texture for a beautifully even and radiant complexion. Formulated with deep-sea pearl extracts and lotus stem cells, it helps to lighten dark spots and hydrate the skin deeply to give it instant glow. In addition, royal jelly extract helps balance pH levels of the skin and olive leaf extract protects and inhibits melanin formation enhanced skin whitening prowess.
Available from www.racinneusa.com
You might also like: