[By Elizabeth Chu]
Were you at the massive music festival, Ultra Singapore 2017 last weekend? So much fun was an understatement, wasn't it? From boasting a UNESCO World Heritage Site to World's Number One Airport, we took the opportunity to discover sights of the sunny island and pieced together eight favourite goodies for both locals and tourists alike. Don't miss out on these awesome and unique momentos the next time you visit Singapore!
Singapore Sling
Take a heritage tour of Raffles Hotel, one of the few remaining great 19th century hotels in the world and appreciate its the colonial architecture. Complete the experience with a Singapore Sling known as the national drink of Singapore. This drink, created by bartender Ngiam Tong Boon at Raffles Hotel's Long Bar in the 1930s, has since become popular worldwide and expanded beyond its original mixture of gin, cherry brandy, orange juice, lime juice and pineapple juice. Bottled versions can be purchased at Raffles Hotel's Long Bar, Raffles Hotel's souvenir shops and Changi Airport souvenir shops. For visitors interested to explore Raffles Hotel, do note that parts of it are under renovation now and the hotel will be fully closed end of 2017 to reopen in mid 2018.
The Sloane Clinic
If you're looking for indulgence, visit The Sloane Clinic at Ion Orchard, one of the hottest places in town where locals and celebs rub shoulders to get their beauty fixes on a regular basis. Helmed by some of the best aesthetic doctors in Singapore, scoring an appointment at this award-winning clinic is akin to winning a lottery, so if you have plans to visit this island state, you really should try booking in for one of their skin-transforming facials. We are impressed with their signature Deep Red facial and wished we had deeper pockets and more time to book in for one of their much loved lasers or filler treatments, reputed to be one of the best around.
The Sloane Clinic is one of Singapore's leading aesthetics clinics focusing on all aspects of aesthetics, from cosmetic dermatology to plastic surgery. It combines the latest technological advances in aesthetics with their range of skin care products to the offer the best treatment results for patients.
Street Canvas Bag by Love Sg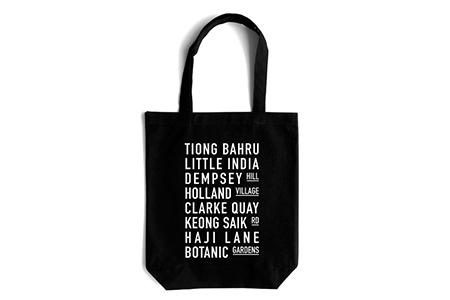 For lovers of functional gifts, this chic looking, recyclable bag is the perfect gift for yourself and friends. It is designed locally showing a collection of Singapore's famous street names.
Kaya
Assimilate into the Singaporean culture starting with breakfast at the kopi-tiams, or coffeehouses. Take in the bustle of activity at these commonplaces as you grab their must-have local breakfast set consisting of toast with kaya (a traditional spread made from coconut milk, eggs, and sugar), eggs and either coffee or tea. Replicate this simple yet enjoyable meal back home with this creamy Kaya from Ya Kun Kaya Toast available for purchase at all their outlets including Changi Airport Terminals 2 & 3, Ion Orchard and Bugis Junction.
Mer Mer the Merlion Plush
You don't know Singapore if you are clueless about the country's iconic Merlion (or have not taken a picture with it). A mythical creature with a lion's head and a fish's tail, it represents the grand ambitions of Singapura (Singa meaning Lion and Pura meaning city in Sanskrit). More recently reincarnated as a friendly, cuddly and adorable plush toy, we simply could not resist bringing home this collectible. It sure can steal the hearts of kids and even adults.
Nail's D'vine
This is one of the most commonly recommended stops by our Singaporean friends for an enjoyable nail spa experience. Decked out in lush and lavish Victorian decorating, you will feel like a princess in a set at this luxurious and spacious salon. It earns bonus points for being kids-friendly.
Nail's D'vine is Singapore's first-ever family classical nail and beauty spa offering first-class treatment at affordable prices. Located at Dempsey Hill, this is a luxurious and cosy retreat for families to pamper their nails, face and bodies.
Clan Badge Keychains
Adopt a Chinese surname – Lim, Tan, Chan or Thong – with these tongue-in-cheek magnetic keychains. Made for locals and Singaporean fans, these hip local souvenirs would resonate well with anyone who has spent time in Singapore and who is more familiar with the culture.
Bak Kwa
You absolutely cannot leave Singapore without Bak Kwa. More flavourful and succulent than beef jerky, Bak Kwa (barbecued meat) is a well-loved local snack that is especially popular during Chinese New Year. You've got to try them from some of the household brand names like Bee Cheng Hiang or Lim Chee Guan. Whilst at it, pack some pork floss which goes amazing with porridge.
You might also like: