[By Sonia L]
How to achieve glowing and healthy-looking complexion? I've asked this of my friend too who is recently spotting said complexion. I just couldn't contain my fierce curiosity for it was barely two weeks since I last saw her and the difference in skin tone was too significant to ignore.
She went on to share some skincare tips nothing unfamiliar to me before dropping the name Sloane Inc Lightening Complexion Corrector S6.2 and because I trust recommendations from friends more than anything else (either that or she's hella convincing), I decided then and there to get a bottle.
Read More: 8 'tricks & treats' to resurrect tired skin
The Claim
Sloane Inc Lightening Complexion Corrector S6.2 has 3 key benefits:
1.  Fades discoloration caused by sun damage, blemishes and scarring.
2.  Evens out skin tone, re-texturizes rough skins and illuminates dull and damaged skins.
3.  Repairs cellular aging and protects from environmental aggressors.
The Verdict
Turns out, true to its name, this complexion corrector is unbelievably effective in lightening my dull skin and pigments! I'm seriously impressed because while I do have an oily T-zone and sensitive skin that breaks out easily, this non-greasy product is gentle yet quick in action, restoring brightness to skin that has lost its shine. Though it has a slight hint of medicinal smell, I can get used to it.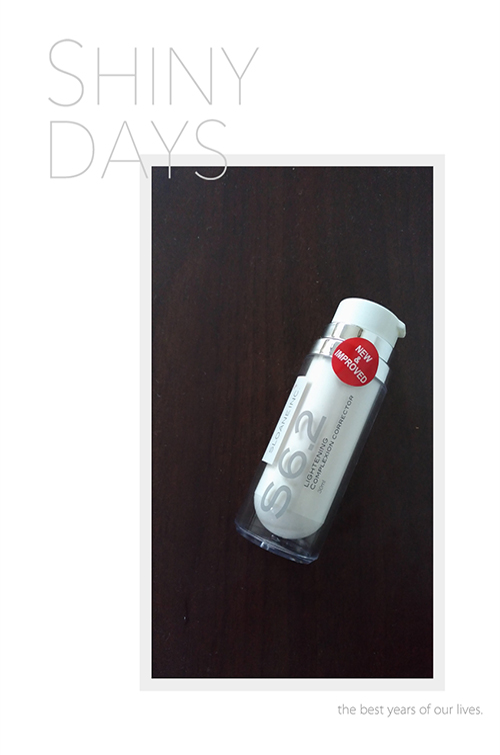 The Potion

Lightweight, watery and doesn't leave stickiness. Product is quickly absorbed by skin.

Picture at the background: My dull and tired-looking skin before applying the gel.
Picture in the foreground: Glowing skin that looks healthy even at the end of the day.
The Science
The several times my skin flared up due to allergens has conditioned me to check the labels of potential skincare products and I actually think it's important for us all to make that a habit. There may be certain ingredients used that're unsuitable, possibly too harsh for your skin, or that you personally disagree with like sulfates and parabens.
So what's in this bottle? A slew of potent lighteners:
√  Blend of AHA fruit acids: excellent for skin renewal, anti-acne and anti-wrinkle.
√  Magnesium Ascorbyl Phosphate aka Vitamin C: this secret weapon is a key antioxidant to reverse UV damage and kickstart the skin's healing process for lightening and glow.
√  Kojic Acid: this by-product of the fermentation process of malting rice, for use in the manufacturing of sake, prevents formation of pigments.
√  Skinwhite BLE: skin lightening agent made from bearberry leaves extract (Arctostaphylos Uva-ursi) and Vitamin C. Bearberries contain a natural form of Hydroquinone that has awesome skin-lightening and antioxidant activities.
Altogether, Sloane Inc Lightening Complexion Corrector S6.2, made up of this combination of oil-free and water based formula, helps to illuminate and control oil and shine simultaneously to give me energised and radiant skin that I absolutely love!
You can purchase Sloane Inc Lightening Complexion Corrector S6.2, USD78 from either www.sloaneshop.com or at The Sloane Clinic, ION level 3.
You might also like: