[By Nina & Belinda]
Belinda* may be in her mid twenties but is already a mother of two, successful entrepreneur and interior designer. One of the pioneer local blogshop owners, Belinda believes in tapping on the potential of cosmetics and beauty enhancement surgeries to become the best version of herself. RSB is excited to hear her share with us her latest aesthetic journey of breast augmentation from consultation to surgery and post recovery; an inspiring account for mothers who wish to take charge of their lives and bodies.
---
I can't tell you how much I'm looking forward to finally giving my precious boobs a lift. After having my babies, my body underwent a huge transformation. As my self image is important in the line of work I do, I wanted and did manage to slim down rather quickly through a healthy combination of exercise and dieting. However, there wasn't much I could do to reverse the change in my beloved assets.
Why Did I Want to Go For Breast Augmentation?
From an original C cup, my breasts grew to a G during pregnancy and breastfeeding. Can you imagine, I've been told I'm skinny, but my boobs are large by proportion. There are so many things others don't tell you about pregnancy or that they do but the reality doesn't hit you until you have experienced it for yourself. And a dramatic change in the breasts is one of them.
Once I was done with breastfeeding, my boobs deflated to a size that is even smaller than what they were before. Because the previously expanded skin cannot contract accordingly, there is now excess skin and less volume. As a result, my breasts became very empty from the deflation. They're so saggy and the skin was so wrinkled and loose that when I pinch them it feels like they're all just skin.
This is very difficult for me to accept because I feel like I'm a late twenties lady with 40 year-old boobs.
It was so bad I resort to wearing thicker padded bra and clothes that cover my cleavage. Bye bikinis and tank tops. The sight of my aged and saggy boobs just makes me sad every single time and because I wasn't born a very confident girl to start with, my self-confidence was seriously affected.
I want to feel attractive in my body again, not that a post-partum body is not to be proud of but my saggy, deflated boobs are a concern to me and if there's something you're worried or unhappy about, and if you have the means, wouldn't you want to fix it too? Although I'm busy with work, I figured if not now then when? By then I was determined to go for breast augmentation surgery and started my research.
Why did I do my Breast Augmentation with The Sloane Clinic?
It was my friend who recommended Dr Tan Ying Chien from The Sloane Clinic Plastic Surgery and convinced me to give it a try as she was very happy about the process and result of her breast augmentation surgery.
I've known The Sloane Clinic to be one of the leading aesthetic clinics in Singapore with some of the best aesthetic doctors and plastic surgeons. They've also won some awards like 'best aesthetic clinic in Singapore 2016' by Tatler magazine so even though I was quite put off by the very high cost, I decided there's no harm seeking a consultation first.
Very spacious and lots of hidden doors!
Consultation for Breast Augmentation
A consultation is important to clarify any doubts you have and for me, I want to be able to trust the surgeon, his team and his technique.
Dr Tan and the nurses at The Sloane Clinic Plastic Surgery are friendly, patient and professional. Dr Tan who has extensive experience in breast enhancements and augmentations explained the difference between implants and fat transfer for the surgery.
I was hoping I could do a fat transfer whereby fats from other parts of my body can be removed and re-injected back into my breasts which is like killing 2 birds with 1 stone but sadly, Dr Tan says with the limited amount of fats I have, it's not recommended.
He also talked me through the process of the surgery like what're my expectations, recovery process and clarified there's no link between breast implants and risk of breast cancer. Mothers who would like to breastfeed after future pregnancies can still continue to do so after having implants!
Read More: Everything You Need to Know about Breast Augmentation
Dr Tan explained that as my breasts have lost volume resulting in excess skin so breast implants are ideal to make up the lost volume and to re-stretch the skin. That can correct the deflated appearance and give my breasts a fuller and lifted look. He suggested I go for the Dream-Lift Breast Augmentation procedure that uses anatomical or teardrop shaped implants as they're better in 3 ways: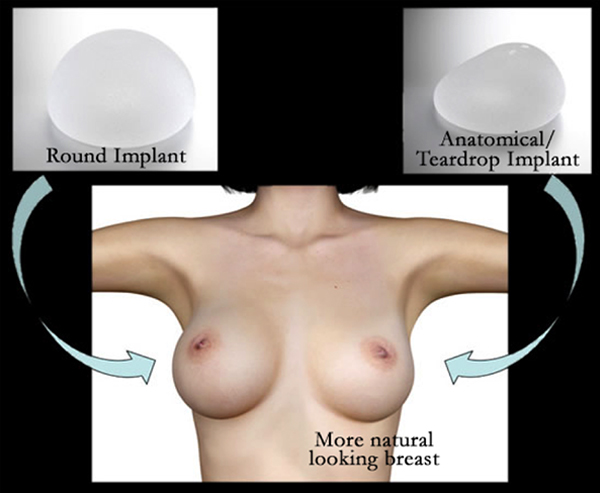 1) The implant shell is stronger, yet thinner and these cohesive gel or "gummy bear" implants does not leak out in the unlikely event of a rupture.
2) This type of implant gives fuller and more natural looking breasts as compared to traditional round implants that look round and unnatural.
3) They come in a variety of heights to help correct asymmetries in the existing breast or chest.
These implants even come with lifetime warranty against manufacturing defects (no wonder expensive)!
Read More: 5 Things you didn't Know about Breast Implants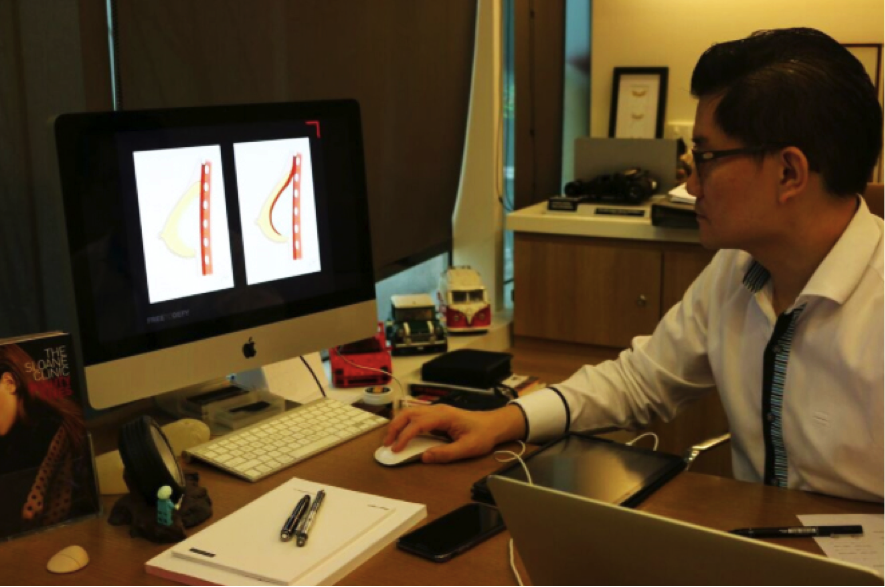 Dr Tan explaining why placing the implants under the muscle will give me the best result. This allows them to be better concealed, making the edges of the implants less visible especially is slim patients like myself.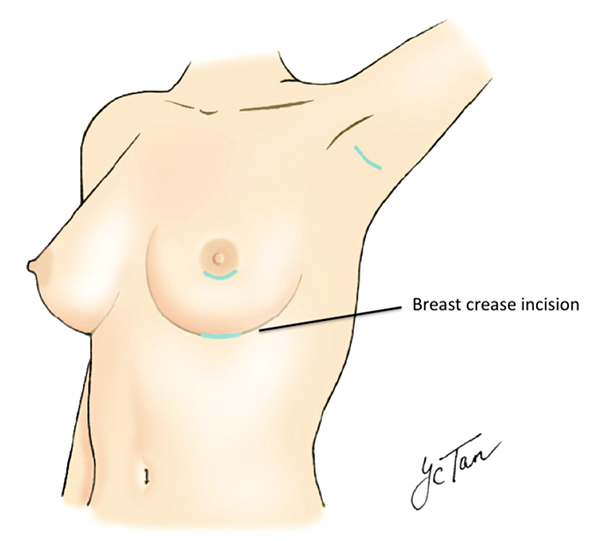 The natural fold created by my breast would hide the incision scar well.
Dr Tan taking measurements so we can decide on the choice of implants. That's the amount of loose boob skin I have.
I've been told Dream-Lift Breast Augmentation is popular because it includes using this machine, the most advanced Vectra 3D imaging system, to get simulated results that are said to be extremely close to the actual results.
Read More: 5 Surprising Boobs Facts that you didn't know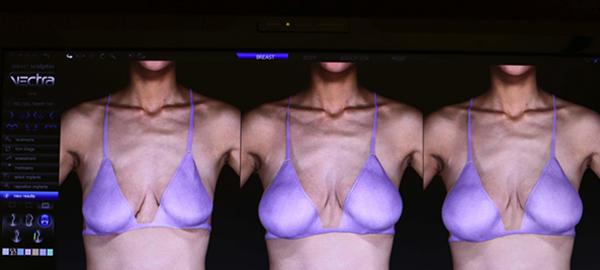 Results from the Vectra 3D imaging system. On the far left, you can see the sag and deflation in my breasts. The middle picture shows my ideal breasts – more volume and fuller. The actual simulation shows the complete topless version but I can only show the bikini version here 😛
These images really help me to better visualize the effect with the different implants. They look very real and make me even more excited to get this boob job done!
After playing around with the various sizes, we decided 375CC seems to suit me the most. Here's Dr Tan showing me how he obtains the right implant size according to my measurements.
The consultation took me an hour. I'm very impressed with the service and trust Dr Tan's expertise (he has years of experience, is straightforward yet gentle) so I didn't hesitate to fix my appointment for the surgery. Finally, I'm much closer to getting my desired boobs back. Stay tuned for Part 2 where I undergo the procedure!
Cost of Dream-Lift Breast Augmentation: $13,000 (excluding consultation, medication and GST).
*Name has been changed
---
The Sloane Clinic
The Sloane Clinic is a chain of top aesthetic clinics & plastic surgery center in Singapore & Malaysia, helmed by some of the best aesthetic doctors & plastic surgeons. It is a one-stop beauty destination, offering a wide range of first-class aesthetic face & body treatments.
Dr. Tan Ying Chien
Dr Tan Ying Chien graduated from the National University of Singapore (NUS) in 1996. He then became a member of the Royal College of Surgeons of Edinburgh and was later awarded his Master of Medicine in Surgery from NUS.
Dr Tan is a recipient of Health Manpower Development Plan (HMDP) scholarship and have trained at the world-renowned hospitals including Chang Gung Memorial Hospital in Taipei, Taiwan and at the Singapore General Hospital (SGH).
Today, besides being a Consultant Plastic Surgeon at The Sloane Clinic Plastic Surgery Centre, Dr Tan is part of Operation Smile, a charitable organization that organizes medical missions to third world countries to help children.
You might also like: