[By Laura M]
Sure, people are still obsessed with getting a V-shaped face and fuller lips but lately there's quite a buzz surrounding this body part that is often neglected. We're talking about the neck, which incidentally can age much faster than the face. Subtle changes such as dry or thinning neck skin, fine lines progress into serious neck lines, prominent platysmal bands and a double chin with time and neglect. It's really much worse than it sounds. You might be thinking, "it's not going to happen to me", only that it is. Nobody escapes the clutches of time. Sorry to disappoint.
Listen, the anti-ageing train's leaving the station again as we reveal the beauty secret to looking young, something you may have missed out earlier or forgot. Here's your ticket: we're letting Dr Toby Hui, Aesthetic Consultant at The Sloane Clinic, take charge and share exactly how to prevent future sagging and wrinkles of skin around the neck, and undo some damage you may already have.
Laura: How does the skin of the neck differ from the skin of the face?
Dr Hui: The skin over our neck is thinner and has less fatty tissue and sebaceous glands compared to the skin of the face. This explains why the skin over our neck feels drier, and dry skin tends to age at a faster rate. In addition, as our neck muscles spread out as thin sheets right under the skin without any connection to surrounding bony structures for better support, our neck tend to lose its elasticity and show signs of aging early in life.
Read More: 5 Things you never knew about your Neck
Laura: What are the steps that one can take to slow down the aging process of the neck?
Dr Hui: Pay as much attention to your neck as you do to your face and it won't betray you. One for the easiest habit to cultivate to slow down the aging process of the neck is to make sure that whatever serums and creams you apply to your face, extend southwards to cover the neck and décolletage. Sunscreen is especially important as the neck is prone to wrinkles, fine lines, textural changes and pigmentation.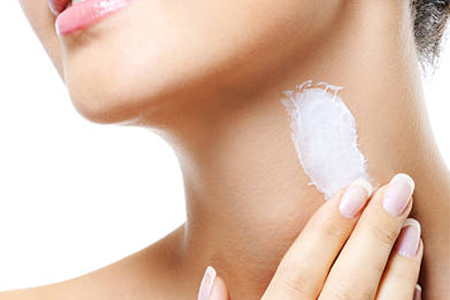 Laura: What are the main aesthetic concerns your patients face for the neck area?
Dr Hui: Varying degree of 'turkey neck'. A turkey neck is the unflattering description given to lax skin that hangs under your chin and neck because of its resemblance to a turkey's wattle. With age, the loss of elasticity leads to thin, crepey skin and prominent neck rings. Coupled with the development of platysmal bands, which are thin bands of muscles that are located in your neck, the undesirable features of a turkey neck is enhanced.
Read More: Beauty Decoded – 4 Things you Never Knew Men Find Sexy
Laura: What are the treatments available for damaged, crepey skin of the neck?
Dr Hui: For moderately severe cases, the non-ablative Fraxel Restore resurfacing laser is my preferred choice of treatment to improve upon the appearance of damaged, crepey skin of the neck. Those with early signs of aging or as a preventive measure to delay its onset should consider the Fraxel Light laser treatment, done at lower settings tailored to each individual's needs and tolerance to harvest the benefits of this excellent technology without the protracted downtime of a full Fraxel Restore treatment.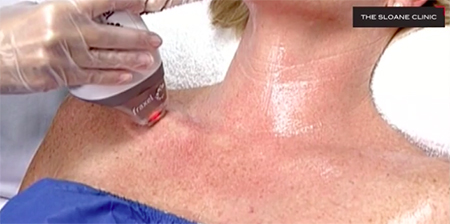 Laura: What are the treatments available for sagging neck skin and double chin?
Dr Hui: If you are not quite ready to go under the knife, the Infinity Neck Thread Lift is a great non-surgical option to tackle sagging neck skin and double chin to restore an aging jawline to more youthful and aesthetically pleasing proportions. For those looking for treatment modalities sans scalpel and needles, a combination of Ulthera which utilizes ultrasound energy for deep tissue lifting to address double chin and Thermage, which engages monopolar radiofrequency waves for effective skin tightening has given satisfactory results to many.
Laura: What are the treatments available for neck lines?
Dr Hui: Horizontal neck lines can be addressed with MicroRevitalift, a simple treatment which consists of microinjections of pure hyaluronic acid filler to improve upon hydration and hence the appearance of skin over the neck. Rejuran DNA Resurgence treatment is another feasible option whereby a primary course of salmon DNA extracts is introduced directly via microinjections into the targeted area(s) to repair and rejuvenate your skin cells from within, best done at fortnightly intervals for 8 weeks. One would expect skin brightening, lifting, enhanced elasticity and overall improvement to the appearance of the neck post therapy.
Read More: 4 Anti-Aging Treatments for the Neck
Laura: Can you tell me what the procedure for neck Thread lift is like?
Dr Hui: Topical numbing cream is first applied to the neck and left on for about 10 minutes. Local anesthetic injections are subsequently given to ensure minimal discomfort during the procedure. Depending on each individual's requirement as determined by the degree of skin laxity, 4 to 8 threads are inserted to give the best outcome. The treated area is then taped overnight to ensure the quickest recovery time possible. At The Sloane Clinic, we performed the Infinity Neck Thread Lift with 100% bio-absorbable PDO threads which unlike older generation threads, will completely disappear in 6 months' time; but not before they cleverly stimulate your body to produce its own collagen to form a strong supporting latticework to secure the lifting effects well beyond the longevity of the threads inserted.
Laura: What is the downtime and can I return to work immediately?
Dr Hui: There is little to no downtime and generally, one can return to work after a day or two. There can be slight swelling for 6 to 24 hours due to the anesthetic injections administered, and with all procedures that involved needles and injection, small pin prick marks and bruising can occur. However, these are usually on the underside of the jawline and thus inconspicuous and not directly visible.
Laura: Can Neck Thread lifts be combined with any other anti-aging treatments for the neck area?
Dr Hui: The results achieved with a neck thread lift can be further enhanced with Thermage, a well- established, FDA approved procedure which utilizes patented monopolar radiofrequency technology to stimulate collagen remodeling and regeneration for overall skin tightening. Thermage can be safely performed 2 to 4 weeks before, or 6 to 8 weeks after a thread lift that involves the same area(s).

Dr Toby Hui obtained his medical degree from the National University of Singapore. His postgraduate qualification includes a Diploma in Family Medicine. Dr Hui has a special interest in anti-ageing treatments such as Botox, Dermal Fillers, Laser treatments and Light therapies to treat age spots, wrinkles, sagging skin, volume loss and uneven complexion. As a health fanatic, he advocates on weight management where he employs an effective integrated approach combining therapies, diet and lifestyle changes.
You might also like: