[By Laura M]
Once endorsed by Gwyneth Paltrow, threadlifts have since soared to popularity with many A-listers flocking to Europe and Asia for the procedure which helps shed years off their visage even before you're done reading this article. Still wondering what's a threadlift? RSB puts together common questions regarding this hot beauty treatment interested readers may be too shy to ask…
1) What are threadlifts?
Threadlifts are non-surgical and mildly invasive treatments designed to lift sagging skin and stimulate collagen production by utilizing intelligent placements of ultra-fine, biocompatible and bio-absorbable threads.
2) Why do people want to get a threadlift?
Lifts and tightens sagging skin with instant result
Stimulates collagen production for a longer-lasting result
Helps create a sharper (V-shaped) face
Safe, non-surgical procedure with minimal downtime
Read More: Facial Thread Lifts – The Pros & Cons
3) What areas can be treated by threadlifts?
Face: Most commonly used to tighten sagging skin on the face, a face threadlift erases wrinkles and facial lines like nasolabial folds as well as; defines jawline for a V-shaped face. It can be also used on the nose like in the case of nose threadlifts performed by The Sloane Clinic to elevate the nose, creating a sharper and more defined nose.
Read More: Forget Brows, Women are now Thread-lifting Their Faces
Neck: Used to achieve a younger-looking neck by tightening sagging neck skin and lax skin under chin (turkey neck). Neck threadlifts also help reduce double chins.
Read More: 4 Anti-Aging Treatments for the Neck
4) How do threadlifts work?
The threads are strategically inserted into skin which creates a scaffolding to support weakened tissues. This restores sharper facial features, indicative of youth. Additionally, these threads stimulate a matrix of supporting collagen to maintain the lifting effect, resulting in a facelift that is natural-looking.
5) What types of threads are used?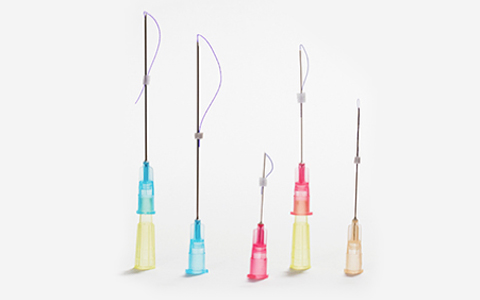 Short or long: While short threads are easier to insert and require little aftercare, they are limited in effect as compared to using longer threads which can provide a greater lift.
Thin or thick: Thin threads may not be able to provide sufficient support to anchor the lift in place as compared to thicker threads.
Smooth or barbed/hooked: Smooth threads are less capable of providing traction between skin tissues for greater lift and a longer-lasting result.
Polydioxiane (PDO), Poly L-Lactic Acid (PLLA) or Polycaprolactone (PCL): The main difference is that they are made of different materials. As PDO threads have been used as surgical sutures for many years, they're extensively-studied and widely recognised to be safe for use. On the other hand, PLLA and PCL threads are newer but are touted to create a much lasting effect with their longer thread lifetimes.
Read More: Which the Best? Thread Lift, Filler or Ultherapy?
6) What is the cost of a threadlift in Singapore?
Cost varies across surgeons, the area of treatment, the type of threads use and the number of threads used, ranging from $1,000 to $12,000.
7) How important is it to pay a reasonable cost for a threadlift?
Very important! As the saying goes: if it's too good to be true, it usually is. Haven't you learnt that reading botched beauty stories? So, while it may be a personal choice to get a threadlift in spite of the temptingly low or ridiculously high cost, it is safest to have your beauty itch scratched by trustworthy hands at reputable and hygienic clinics with at least a decade of operations.
Remember, costs are factored in for:
Expertise: Practitioners who specialize in aesthetics can better understand the rule of aesthetics to deliver natural looking facelifts. These trained doctors significantly reduce negative effects from threadlifts like skin dimpling or tethering from placing threads too superficially and damaging skin structures when placing threads too deep into skin.
Experience: As with any surgery, threadlift consists of risks and side effects like possible scarring where the thread (especially a longer and larger one) was inserted and thread extrusion. Accumulated practical experience minimises these, along with revisions to achieve the desired look.
Read More: Jasmine recounts her Nose Threadlift Experience
Material: Many low quality threads have flooded the market, which carries more potential side effects. Thus, do clarify with your practitioner on the threads used and any doubts you have before proceeding.
Comfort: Many clinics do offer local anaesthetic so patients undergo a pain-free threadlift. Take note that these clinics should be clean and practice good hygiene. What you are not paying for is being pressured into more procedures or treatments.
You might also like: