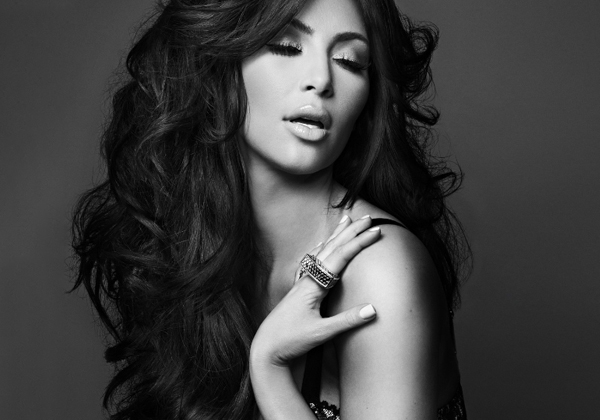 [By Nina]
I know I am. And so is beauty mogul Kim Kardashian West so that makes her no less human than me us who struggle with insecurities. However unlike us 1. she's loaded and 2. she's taken active steps to transcend them (apparently so she can flaunt a sheer Gucci bra whilst out to buy gummy bears). Keep scrolling to see what celebs like Gwyneth Paltrow and Kaley Cuoco have done to enhance their looks to keep them red carpet-ready. Whether you are pro-augmentation or on team au naturel, you're sure to get a kick out of these revelations!
I'm Armenian
What she said: "I'm Armenian, so of course I'm obsessed with laser hair removal. Arms, bikini, legs, underarms…my entire body is hairless."
Fortunately (or unfortunately) for Kim K, she's got the luscious and dark hair typical of an Armenian that makes for both a gorgeous mane and an outstanding "gorilla". Any unwanted fuzz on the body is a real pain especially so when one's a Hollywood star and dating another, thus she pulled the plugs off body hair follicles with lasers.
Go for effective lasers backed by studies like the FDA approved laser and IPL hair removal devices used by SW1 Clinic and you'll find that every rogue hair will soon vanish from your body, face and even neck as they did with hers.
Read more: 3 Non-invasive Treatments even the Most Needle Shy can't Resist
It's just something that I wanted to do
What she said: "I have had temporary lip fillers. It's just something that I wanted to do."
When Kylie Jenner finally admitted to having lip fillers, we couldn't say we were surprised when speculations were rife before her overdue confession. The now American poster child for lip fillers later spoke about the one regretful incident of making her lips too big at a point in time, becoming the talk of gossip town.
Lesson learnt. Opt for natural results when volumising lips although hyaluronidase offers an antidote to unsatisfying results. Juvederm fillers for lips add just enough volume to accentuate and define thin lips for a good 6 months, all without looking artificial.
Read More: The Science Behind Sexy-looking Lips
I still refuse to use silicone and Botox but…
What she said: "A breast correction after breast feeding—why not? There's actually nothing else to restore the original condition, isn't there?"
In addition to getting a nose job early in her career, Gwyneth Paltrow tells The Sydney Morning Herald she's considering a breast lift after having two kids. This is a sentiment mothers like Belinda*, who eventually went ahead with a breast augmentation surgery, can relate to as breasts can change dramatically after pregnancy and breastfeeding.
A procedure like Breast Augmentation at SW1 Clinic which utilises the most advanced Vectra 3D imaging system to simulate results that narrows the gap between expectation and reality, is a popular choice to restore breasts back to their shapelier and more youthful appearance.
Reminder to never ever joke, ever
What she said: "Everything about me is fake except my cheeks."
Was Chrissy Teigen really joking? After admitting to undergoing extensive surgery in an interview with Byrdie, she retracted the statement in a series of tweets and tried to shift the focus onto a liposuction of her armpit fat which is ineffective in keeping the fats at bay.
If stubborn fat is your concern and going under the knife scares the daylight out of you, coolsculpting is a great alternative to slim and contour. Also known as cryolipolysis or fat freezing, this is a painless treatment that boasts long-term results as destroyed fat cells don't return from the dead. Increase effectiveness of a single procedure by combining the right treatments. CoolShape, enhances positive effects by supplementing each fat freezing session with skin regenerating and lymphatic drainage therapy. Expect an acceleration in the clearance of the broken down fat cells, translating into faster visible results and a quicker recovery time.
Read More: The Cost of a Perfect Body
Best thing I ever did
What she said: "As much as you want to love your inner self, I'm sorry, you also want to look good. I don't think you should do it for a man or anyone else, but if it makes you feel confident, that's amazing."
In refreshing frankness, Kaley Cuoco opened up about her past procedures – rhinoplasty, a breast augmentation and even fillers in her neck. The neck is an area often neglected by many, resulting in a mismatch between a youthful face and crepey, saggy neck.
Address horizontal neck lines with Revitalift, a simple treatment of microinjections of pure hyaluronic acid filler to rejuvenate, tighten and restore the skin's suppleness and elasticity. Try Infinity Neck Thread Lift for an impressive transformation. 100% bio-absorbable PDO threads are inserted to anchor loose skin, tackling both an aging neck and double chin. Furthermore, these threads cleverly stimulate your body to produce its own collagen to form a strong matrix for a smooth and youthful-looking neck that lasts beyond the longevity of the threads.
Read More: Solutions for a Younger Looking Neck