Many women make the mistake of thinking botox and fillers are one and the same thing. Nothing can be further from the truth. Choosing the right moisturizer is hard enough. When it comes to choosing the best aesthetic injectable for your face? Even harder. Right? Well, it doesn't have to be.
"The difference between neuromodulators and fillers can be difficult for patients to understand, especially with all the different brand names on the market" says Dr Low Chai Ling, founder of SW1 Clinic in Singapore.
We asked the experts to break down the differences and answer some of the most common questions their patients pose.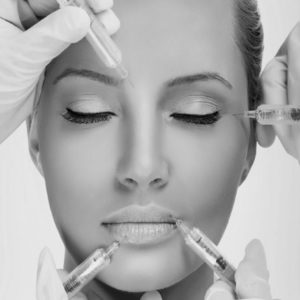 Which one does what?
It's very common for patients to come in and be confused between fillers and neuromodulators (such as botox), as to which one volumizes and which one decreases muscle movement. Neuromodulators, like Botox Cosmetic, Dysport and Xeomin relax the muscles that cause wrinkles, while fillers either add or replace lost volume.
What should I get if I want to fix wrinkles?
"Neuromodulators like botox help relax facial muscles to smooth the appearance of expression lines, like crow's-feet and forehead wrinkles. Fillers, on the other hand, aim to restore lost fullness to the face, lips and hands" explains Dr Low. Dermal fillers are injectable hyaluronic acid solutions, or other materials, that work to fill in areas of concern, such as deep-set lines around the mouth or loss of firmness in the cheeks. Some patients also opt to use their own fat to be used as the filler.
Read More: Hands Up If You Love Hitting the Gym! No One? Yeah, I Thought So.
Is it going to hurt?
In general, people are mildly concerned about the potential pain factor involved in Botox injections, but almost all are surprised when the discomfort is negligible. Even fillers are getting to be more comfortable now than before. Patients who are worried about discomfort or downtime can always opt for baby drop fillers where small amounts of fillers (fewer injections) are delivered in each session. You still get to the attractive ideal you want but in baby steps.
Read More: Your Eyes Are the Greatest Gifts You Get to Open Every Day – Take Care of Them.
Will people be able to tell I had anything done?
Right after you receive Botox  it looks like a small mosquito bite. But that only lasts a few minutes, and after that, no one can tell that you had it done. Likewise, as the American Academy of Dermatology points out, one of the reasons fillers are popular is because patients like that they can return to everyday activities immediately after getting most of them. But, side effects—including bruising and swelling—can still happen in susceptible individuals. The good news is that a bit of concealer can usually cover these up.
Patients who have gotten fillers can expect to walk out seeing immediate results while with botox, you get to see the anti-wrinkle effects only after 7 days.
Read More: The Truth About Fat Loss Treatments  
Can I get both?
Like most treatments, it really depends on which areas of concern you want to address. Both can help minimize the appearance of fine lines and wrinkles, but neuromodulators (like botox) are better for expression lines, mainly on the upper face, and fillers are better for plumping the appearance of skin and restoring lost volume throughout the facial area and certain off-face areas such as ears, hands and scars. For many patients, a combination of botox and fillers can provide best results.
Read More: 5 Things You Need to Do for Clearer Skin
What's the best age to get them?
The concept of 'best age' to start a certain treatment is outdated. Nowadays, aesthetic treatments such as botox and fillers are not just used to address signs of ageing, they can also be used to retard the ageing process. For example, Botox can be used to treat teeth grinding and to prevent the enlargement of the jaw muscles. This can be used in anyone who has a teeth grinding issue, young or old. With the proliferation of smartphone devices, we also see many young people with squint lines at the side of their eyes. Starting botox younger and prevent these lines from worsening or becoming a permanent fixture on the face.
The same can be said for fillers. Not all fillers are made the same. Some can be used to improve dark circles or to improve hydration of the skin, both much sought after by even women in their twenties.
Interestingly, many times these treatments can actually lead to less depression and more happiness just by changing an ongoing tendency to frown or appear unhappy."
Read More: Please Tell Whoever Told You That "Sleep Is for the Weak"… to Wake Up.
How long will they last?
A typical Botox treatment lasts about three months, but this time frame could be slightly more or less depending on the patient, other treatments they receive and their skin care routine. To maintain results, you'll need to schedule regular treatments in three-month intervals.
Fillers, on the other hand, have a slightly different time frame. They can last three, six or even up to 18–24 months depending on the type. Your doctor can help you come up with a product treatment schedule that best suits your needs."
Read More: Your Age Doesn't Lie. Your Face Is Going to Have to Do That for You.