Taking beautification to the extremes, fans of a popular Chinese video blogger who called herself "Your Highness Qiao Biluo" have been left stunned after a technical glitch during one of her live-streams revealed her to be a middle-aged woman and not the young glamorous girl they thought her to be.
This scandal has led to a few heated debates about standards of beauty.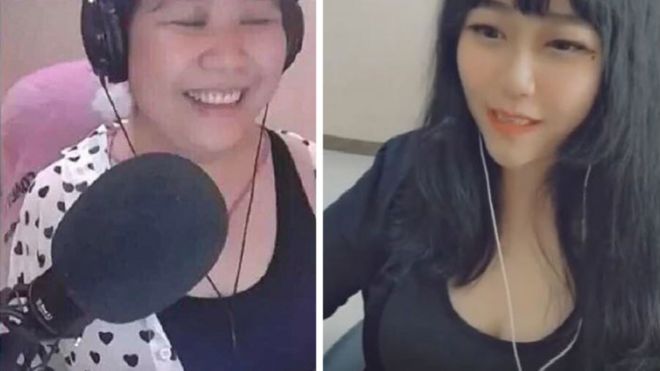 The blogger, who initially boasted a follower count of more than 100,000 on Douyu, is believed to have used a filter on her face during her appearances, and had been renowned for her "sweet and healing voice". It is clear that her fans were very much taken in by her youthful looks and her feminine beauty.
The fact that Qiao Biluo replaced her real face with that of a younger beauty also tells us much about her perception of beauty in itself. The perception of what constitutes a beautiful face is universal, it seems. The only difference is that some women do really possess these qualities in real life while others achieve it through serious use of filters.
So what are the qualities of beauty that enthralls both men and women alike? Here are some universal features that render a plain-looking face more attractive that others.
#1 V-shape face
The V-shape face has been especially coveted by many Asians as it transforms a plain-looking face to one that exudes femininity and sex appeal. "Many women associate a V-shape face with youth and beauty" explains Dr Low Chai Ling, founder of SW1 Clinic who sees as many as fifty women a week seeking cosmetic correction for squarish jaws and sagging jowls. According to Dr Low, judicious use of Botox to the masseter muscles like that found in her specially designed V-sculpt facial program is ideal for helping to slim and define the lower face.
#2 Sharp & Slim Nose
Asians are most bothered about their noses, this could be because unlike Caucasians, Asian noses tend to have a flatter nose bridge and larger nostrils. The ideal nose is one that is sharp yet slim. However, there is an upper limit to this as noses that are too sharp or too high can look 'fake' on Asians, according to Dr Low. At her practice, Dr Low says many women seek either rhinoplasty surgery for permanent correction of their noses or for those who shun surgery, nose threadlifts and nose fillers are a great option too. As the latter are non-surgical, results can be seen immediately with little to no downtime. They are perfect for women who seek mild to moderate enhancement of their nose bridge or correction of any nasal bumps. Both nose threads and nose fillers can also be combined in some women to achieve ultimate natural-looking yet long lasting results. Why is the nose so important for beauty? It's because the nose is the central feature of the face, which means that its proportions will affect how the rest of the features look around it.
Read More: How to Get Rid of Armpit Fat
#3 Smooth, fair complexion
Asian women love skin that is fair and smooth. Unlike their caucasian counterparts who may covet thr darker tanned looks, asian women understand the damaging effects of the sun. Furthermore, a fair porcelain complexion reminds people of 'baby skin', a quality most women seek to emulate. Besides staying away from the sun and using an effective sun protector with whitening qualities such as Snow White, new age lasers such as the Baby Skin program does just that. This series of BB Aquatouch laser helps to renews, smoothen ad lighten skin so effectively, Dr Low also advises that the treatment be extended to the neck area so the colour of the face and neck remain consistent after the treatment!
Read More: When Is the Best Time for a Facelift
#4 'Rosebud' lips
Many women think that 'rosebud' lips are inborn. This is not necessarily true. According to Dr Low, the rosebud shaped lips can be created using judicious placement of fillers to enhance the cupid's bow, the pearl of the upper lip and shaping up the 'pillows' of the lower lip. Lip fillers are no longer for non-specific volumizing of the lips. In fact, Dr Low says she sees more patients for lip shaping to create rose bud lips than for general volumization. "After lip shaping procedures, the lips don't always look bigger, just shapelier, sexier and more upturned" says Dr Low.
Read More: 4 Pretty Reasons on Why You Need Lip Fillers Today
#5 High cheekbones
This is one feature that is usually lacking in most Asian faces. Dubbed the 'supermodel' effect, this effect can be recreated using makeup by adding highlights to the upper cheekbones. The reason why high cheekbones make a face look so much younger is because they make a face look instantly lifted and more youthful. That is also why Dr Low now advocates recreating cheekbones using facial fillers as part of her Facial Filler beautification program, where the face is not only rejuvenated using fillers but also enhanced by improving on the existing proportions of the face.
Knowing what constitutes a beautiful face, Qiao Biluo may do well to spend some of the money she has collected as 'donations' on her site to give herself a facial makeover, so she can look closer to her 'filtered' avatar in real life.
Read More: Get Amazing Skin with These 5 Treatments