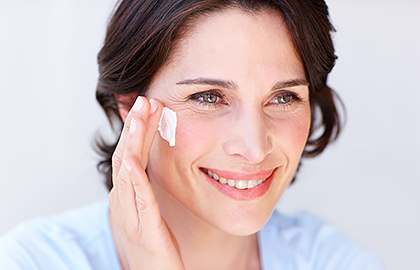 Menopause does not signal the end of your youth or beauty. In fact, there is no reason why you cannot make heads turn even after you've hit menopause. After all, you are still you and the hormonal shift in you does not change who you are and how you feel about yourself.
The tricky part is navigating the changes that come with menopause. The good news however is that with some clever foresight, all of the skin changes you may experience can be easily overcome. Here are some of the main menopausal skin changes with recommendations from top medical experts so you not only conquer your menopausal changes but look even better after.
# Age Spots
If you've spent ample time in the sun without sun protection, you'll likely see the effects now. Age spots and larger areas of darker skin can appear on your face, hands, neck, arms, or chest. Menopause, which officially begins one year after your last period cause your skin to become dry, slack, and thin. This can accentuate sun damage when exposed to UV light, resulting to the formation of unwanted sun and age spots.
Action: Take innovative measures with new age sun protection steps such as BodyGuard, a body wash that leaves your skin not only cleansed and refreshed but magically protected with an invisible layer of sunscreen that is bound ionically to your skin, without leaving your skin feeling greasy or oily. Don't leave anything to chance, it's good to layer on extra layers of Umbrella, a physical blocker that will leave your skin fully protected and hydrated at the same time.
# Less Hair on Scalp, More Hair on Face
This turn of fortunes for your hair may mean more on your face and less on the scalp. Short of transplanting the former to the latter, there are other ways to combat this hairy issue.
Action: Try Revage 670 lights together with Hair Recovery serum to activate hair growth and slow hair loss on your scalp. Go for a few sessions of laser hair removal to get a permanent hair removal effect on your face. Problem solved!
Read More: How to Tone Pelvic Floor Without Learning How to Kegel
# Pigmentation Woes
As your skin thins out, it is possible to see more visible dark spots on your skin. Applying sunscreen daily is one way to prevent them from getting worse, but treating them as they crop up will also ensure your skin regains their flawless state.
Action: Pico Pigment lasers are effective no downtime tools to erase sun spots and age spots from the skin. If you are looking for a more well-rounded complexion rejuvenation effect, try BBL forever young, which helps lightens pigment while revitalizing the skin, imparting a glowing finish to your skin after just a session.
Read More: Why Your Abs Are Not Showing
# Thin Skin
As estrogen levels fall, skin becomes thinner. Thin skin bruises more easily. So take extra care in your daily activities.
Action: If you would like to erase bruises, opt for a Vbeam laser that fades bruises in a few days. This is useful if you have a red carpet event. To prevent skin from thinning out, use creams containing vitamin A. We love Age Defy on the face and Gold Retinol Neck oil for your neck and beyond. Vitamin A is an essential building block for collagen and regular use can help build up collagen stores in your skin.

Read More: 5 Non-Laser Skin Whitening Options That Actually Work
# Dry Skin
In menopause, skin loses some ability to hold water, so skin can get quite dry. This can be especially noticeable when the air is dry.
Action: If you have used all the face and body creams there is out there and still find your skin on the dry side, try Youth Savant. This treatment uses microinjections to renew skin's DNA so your skin will look supple, hydrated and repaired after.
Read More: Verdict: Most of Us Will Find Ourselves Guilty of These Negligent Acts Against Beauty.
# Jowls, slack skin, and wrinkles
In menopause, skin quickly loses collagen. Studies show that women's skin loses about 30% of its collagen during the first 5 years of menopause. After that, the decline is more gradual. Women lose about 2% of their collagen ever year for the next 20 years.
As collagen diminishes, our skin loses it firmness and begins to sag. Jowls appear. Permanent lines run from the tip of the nose to the corners of the mouth. Wrinkles that used to appear only with a smile or frown become visible all the time. Large pores also are due to lack of skin firmness.
Action: Use targeted skin topicals such as Gene Therapy that work at the root cause of aging— your DNA. By helping to repair weakened and aging DHA, Gene Therapy can help slow down the aging process and retard the formation of age –related changes in your skin. Facial threadlifts such as Infinity V-Lift can also help reposition sagging tissues so you look more lifted and youthful, defying the passage of time.

Read More: If Eye Age, You Age Too.
# Sensitive skin
Around 50, the pH level of our skin changes. With this change, skin becomes more sensitive, and women are more likely to develop rashes and easily irritated skin. If you have an existing skin condition, such as eczema or rosacea, this could worsen.
Action: Hydrate, hydrate, hydrate and only use fragrance-free hypoallergenic products. What we also love is Vbeam Perfecta laser as it can help reduce redness and flushing effectively.
Read More: Beauty Sleep – Can It *Really* Make You Beautiful?