Women use makeup for a variety of reasons. The main reason, of course, is to add a little pizzaz to our plain complexions and accentuate our features, but makeup is a general form of concealer as well; a cover-up job for our imperfections that bring about our insecurities.
As we age, our facial imperfections start to evolve as well. In our teens right up to the point of pushing 40, we might use makeup to conceal acne, pigmentation, enlarged pores, or post-acne scars,
We might just succeed enough to do that, but once you enter your 40s, makeup does not work that efficiently anymore, as you're presented with a new set of problems that will show, no matter how much makeup applied.
Here are a few complications makeup might not be able to absolve.
Read more: DIY skincare made easy for you
Fine Lines/Wrinkles
Don't really get why fine lines are named as such, because the fact is they are anything but.
Along with the deeper set lines we know as the wrinkles, these two are the most telling signs of aging, and can happen to you anytime (no, you don't have 30 years) if your skin is dehydrated and in lack of the right skin regimen.
Iron these out before they sprout, by investing in a day and night cream that increases the rate of dead skin exfoliation, moisturizes and replenishes ebbing collagen supply.
Read more: Not just for treating lines and wrinkles, there's more Botox can do
Crow's Feet
Crows definitely are not the most appealing creatures on the planet, so I have no bones to pick with what this is called.
These lines that snake from the sides of your eyes can also happen with dehydration, lack of exfoliation, and smiling or squinting too much over time.
Who knew being happy can come at the expense of our youth?
Worry not, there are specific products that target and eliminate crow's feet. An example would be the Emerald Oil Anti-Aging Eye Treatment serum.
Apply this non-greasy, non-preservative serum diligently enough, it'll not only be the crow's feet that goes away – gone will be your eye bags and dark eye circles too.
Read more: Not just for treating lines and wrinkles, there's more Botox can do
Turkey Neck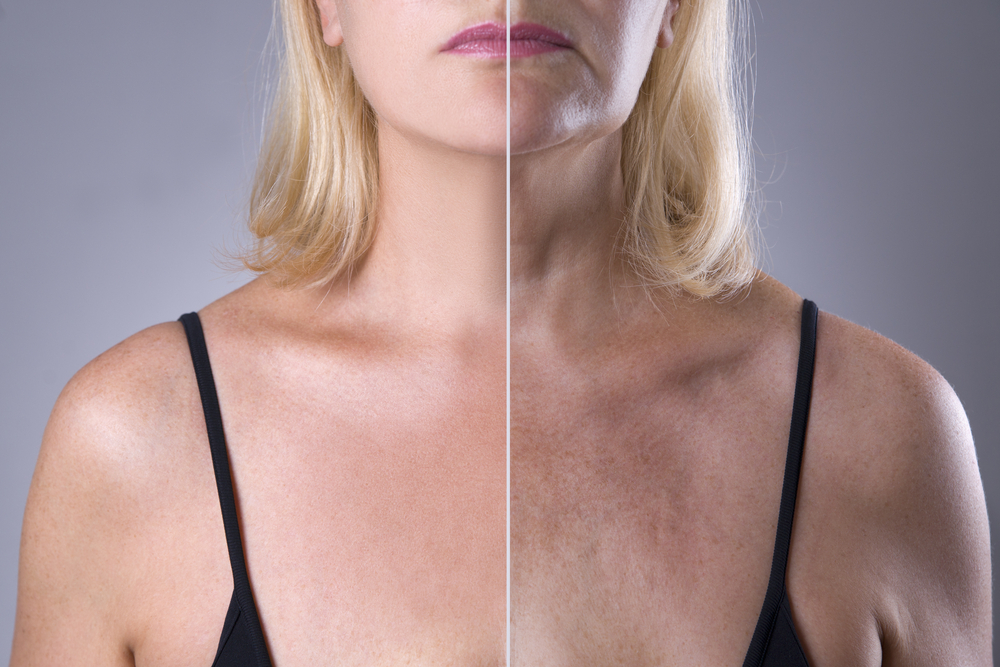 The neck is one of the most oft-neglected areas of the skin. Because of how thin the skin around that area is, it can be prone to some serious sagging, fine lines, and wrinkles aside.
Replenish the retinol age takes away from your skin with the Gold Retinol Vitamin A Anti-Aging Neck Treatment, an organic neck-specific product that moisturizes, nourishes, and tightens the fragile skin around your neck.
For the more severe cases of loose skin around the neck, a few strategically administered muscle-relaxing injections can help to firm up and tighten the skin around your neck, returning your a signifcant chunk of your youth.
This procedure is also known as The Nefertiti Facelift.
It's not always about the face – the neck can betray your youth too.
Read more: 3 longer-lasting cosmetic treatments that are becoming the norm after lockdown
Old Jokes Aside…
If we look at the grander picture of aging and the science of it all, external factors like the sun and the environment are nothing mere accelerators of this process.
What our skin needs is actually a complete overhaul – a complete remodeling of our skin structure.
The Youth Preserve procedure provides this exact kind of relief for your skin. Performed using the groundbreaking Profhilo technology, Youth Preserve introduces copious amounts of youth enhancing Hyaluronic Acid into the skin, stimulating the restructuring and rebuilding process of your skin's exoskeleton.
Before your makeup cakes from over-usage and still fails to serve its purpose, get the upper hand on all of these signs of aging by dealing with them before they even show up.
Read more: Tired of Your Face Masks Yet? Let Us Introduce You to the Beauty Facial Masques!