Every time we step out into the hot sun or stare at our laptop screens, our first reflex is to unknowingly squint. In essence, you're probably squinting for a good 12 hours out of 24 a day.
All of this squinting will be felt and seen in the long run, when our foreheads start to crease from this frequent action. Being one of the most prominent areas of the face, forehead lines from constant creasing can make you look older than you actually are – way older.
If you're not paying any mind to the condition of your forehead and what squinting does to your youth, it's about high time you did.
Read more: Fact: Home-Based Christmas and New Year Gatherings Make All of Us Party Even Harder.
De-creasing the Lines

Forehead wrinkles likened to tram tracks create grooves and furrows that not only add years to one's actual age but mar the beauty of the forehead too.
Botox (Botulinum Toxin) or Anti-wrinkle Microinjections, is amazing for erasing forehead wrinkles.
A couple of small injections and over the course of a couple of days could literally take ten years off your appearance.
Botox is one of the safest cosmetic procedures and the fact that it has been around for decades and continues to be in high demand attests to its efficacy and safety margin.
Read more: Your Skin Might Be Going Through Menopause Even Before You Actually Do.
Grafting for Youth

Hugely popular in the land of Kimchi and K-pop, forehead augmentation employs injection of lipo-suctioned fat obtained from the patient's own body to create the desired amount of forehead fullness.
Since there is no surgical incision on the forehead, recovery is fairly rapid and there are no tell-tale scars of previous surgery.
As with all fat grafting operations, fat survival is highly technique-dependent. The final forehead contour which because of irregular survival and loss, may appear somewhat irregular or lumpy especially when performed by inexperienced injectors. Significant bruising is another major drawback with a downtime of 5 to 7 days during which the forehead may have to be bandaged to control swelling and for better shaping.
Baby Face Restoration Fat Grafting is a process whereby your own fat is harvested from your body, most commonly obtained from the thighs or abdomen, but technically, almost any site can be used. The harvested fat is then purified to extract the young fat cells.
This is an extremely well-tolerated procedure, and one of the benefits of fat transfer is that the latest innovation led to improvements in the long-term survival of grafted fat.
Postoperatively there may be some swelling, and occasionally bruising for up to 7 days. Many patients find that the results last many years with some even reporting them as permanent.
Read more: 2020 Has Been a Dark Year… And It Might Just Get Darker For You.
Some Filler Content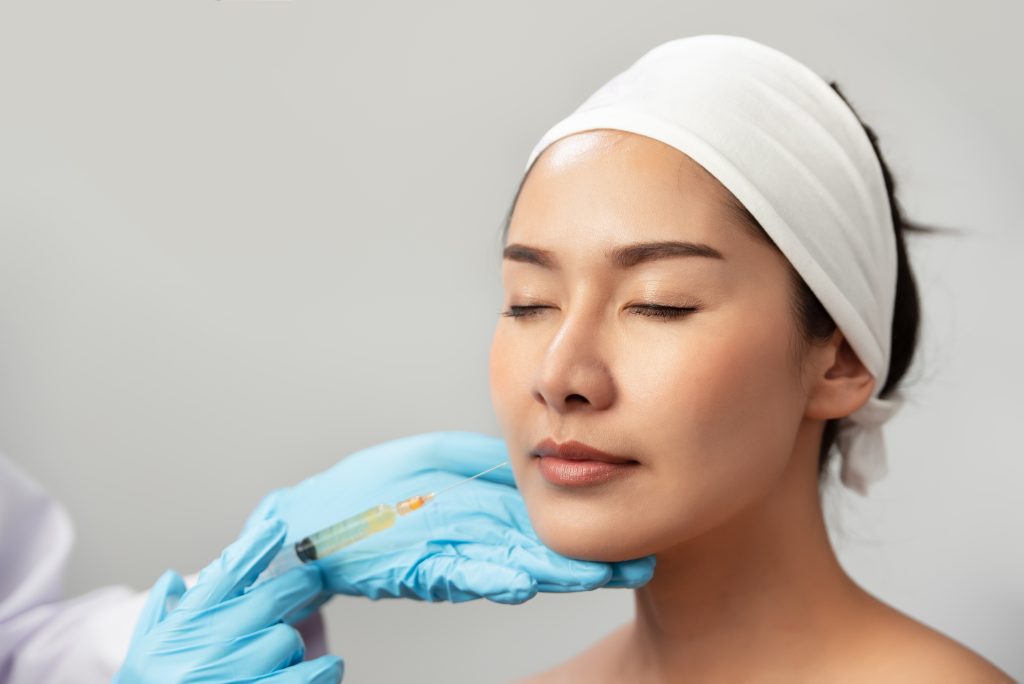 If fat transfer sounds a little too invasive for your liking, consider an alternative form of forehead augmentation done with Natural Facial Fillers.
Many believe that this procedure gives equally good results without prolonged downtime. Targeted to lift and hydrate tired and lackluster skin at the same time, the cutting edge Revitalift offered by the SW1 Clinic is an extremely safe procedure employed to create a full and elegantly contoured forehead.
Thanks to an exclusive patented process, the pure hyaluronic acid used is highly bio-compatible, and readily metabolized by our skin's natural processes.
Improvements are apparent even after the first treatment with close to zero downtime. It can be done conveniently as a 'lunchtime procedure' at 3 to 4 weekly intervals in order to build up your skin's reserves for optimal bio-revitalization and longer-lasting results.
Maintenance treatments are typically done 2-3 times a year, giving you curves representing youth and vitality.
Read more: Treating hair loss during menopause