If you want to keep up with the latest trends, you can rest assured that they're on TikTok. In fact, chances are, that is where it actually started! The video-sharing platform is brimming with the buzziest fashion, lifestyle, and beauty trends, all waiting for your views.
But of course, not everything is worth the time and effort, especially when it's about skincare. While some have worked wonders, others just were just noise saturated amidst the tons of beauty tips and tricks. 
But if there's one thing TikTok got right it would be the frozen cucumber challenge. Who knew the iconic cucumber-over-eyes method really worked for the skin? Let's break down this skincare trick so you can get ordering your groceries pronto.
Read more: Should I be trying the latest skincare trend, skin cycling?
What is the frozen cucumber trick?
With millions of views on TikTok, the #CucumberHack has truly gone viral, and all you need is a frozen cucumber. Just cut off one end and freeze for at least 30 minutes, then apply the cut end to your skin. Users massage this on their faces, and some even use it as a gua sha or jade roller alternative.
But the question is, does it work? The answer is: yes, it does – and you have to stop underestimating the powers of cucumber for your skin!
Cucumbers are 90% water, so they can alleviate puffiness and hydrate dry, flaky skin. Aside from that, the fruit is high in vitamins and minerals that treat acne and reduce irritation. It can also provide instant relief to sunburns, thanks to its ability to improve blood circulation.
How can I add it to my skincare routine?
To include this in your regimen, wash your face first, then massage the frozen cucumber all over your face. You can focus on the areas where you notice inflammation or breakouts to provide instant relief. Once your face warms up again, wash off with a cleanser to remove leftover stickiness. After cleansing for the second time, you can carry on your usual skincare routine.
However, it only works on the surface, so your skin returns to normal once it warms up. If you really want this to work, supplement this trick with the perfect skincare regimen. If anything, the frozen cucumbers will only boost and provide instant relief, not treat all your skin woes.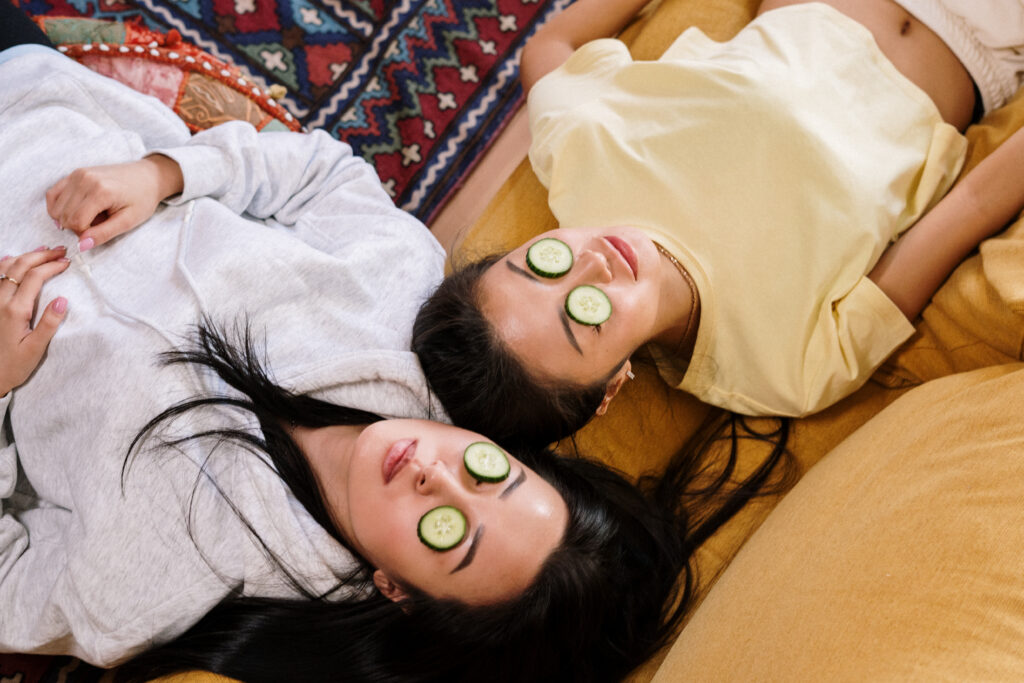 What are the benefits of using frozen cucumbers on your skin?
You may think that the frozen cucumber trick is just like using ice on your face, but it's more than that. Here are all the pros that set it apart:
Improves moisture. Cucumbers are mostly water, so they provide your skin with a heaping dose of hydration.
Smoothens skin. Cucumbers contain vitamin K, which stimulates cell development, improves skin suppleness, and reduces fine lines and wrinkles.
Packed with skin-friendly vitamins. Aside from vitamin K, cucumbers also have vitamin C and folic acid. These two effectively soothe swelling, puffiness, and inflammation. Freezing them also boosts their skin benefits.
Works for sensitive skin. If your skin has been breaking out lately or you have flare-ups, using cucumbers will help.
Very affordable. Who needs expensive skincare products when cucumbers can act as cheaper alternatives? Not only are they affordable, but they're also natural, so there are no side effects!
Soothes inflammation. Because of its anti-inflammatory properties, it can nourish and calm inflamed, acne-prone skin.
Read more: Can we talk about vaginal laxity?