TikTok grew from a platform featuring the biggest dance trends (remember Renegade?) to our one-stop shop for beauty hacks. And if anything, the past year only added to that hype. 2022 was a huge year filled with beauty trends on TikTok that at some point, it was hard to keep up. Of course, not everything that went viral on the app brought us any good – hello, face-taping! 
For the ones that made all the difference, there's no letting go as we're taking them into the new year. Below, we round up our favourite #beautytok moments that we should all bring into 2023. Which ones have you already tried?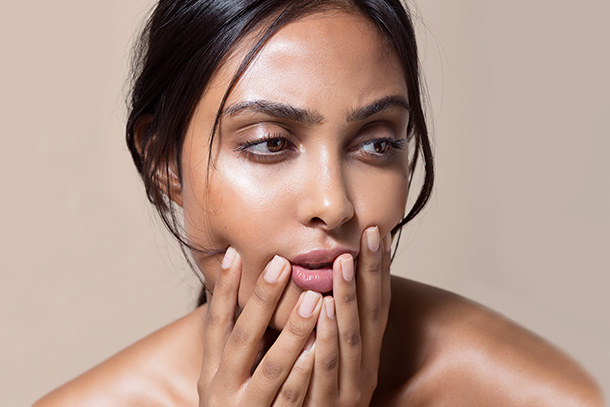 Slugging
At this point, we collectively owe the Koreans a lot for their on-point skincare game. This trend that went viral in 2022 had actually been a Korean beauty staple for years! First things first, slugging is in no way related to literal slugs. It's a moisturising technique that involves slathering an occlusive (typically petroleum jelly) all over your skin overnight. This helps lock in as much moisture as possible, so you'll wake up with baby-soft, smooth skin. The petroleum jelly also creates a physical barrier that keeps out dirt and irritants, so that's two for two!
Read more: Top anti-ageing trends to expect in 2023
Cold Girl Makeup
2022 introduced us to many fun beauty looks, including the cold girl makeup, where we mimic the natural flush we get during the winter. It's mainly characterised by bright, flushed cheeks, a Rudolph-like pinkish nose, and bright under-eyes. This is one of our favourite makeup looks of 2022 because we always love a refreshed glow.

Skin Cycling
Skin cycling is a game changer that taught us how to properly use active ingredients like retinol, AHAs, and BHAs. With skin fasting, you alternate between your active ingredients and assign rest days to let your skin adjust. For example, you should only use retinol every Monday and switch to glycolic acid every Tuesday. Come Wednesday and Thursday, you'll only stick to a cleanser and moisturiser. Spacing out your skincare routine as such allows your skin to fully absorb the ingredients and maximise their benefits. This also helps minimise dryness, irritation, and inflammation, a common side effect of active ingredients.
Hailey Bieber Nails
She is more than just a model and skincare company owner – Hailey Bieber is a full-blown beauty icon. Her elegant and gorgeous nails have racked up millions of views on TikTok, birthing a trend of its own. Seriously, you can Google' Hailey Bieber nails', and you'll fall in love, too!
Hailey Bieber's nails aside, another of our favourites would be the glazed doughnut nails. It is minimalist and essential, yet it exudes elegance like no other! This nail look features a light neutral base polish topped with an iridescent chrome powder for added flair. When the light hits it, expect a glow that shines perfectly, like how a sugary glazed doughnut would.
Euphoria Makeup
Euphoria may have been one of 2022's most controversial TV shows, but it is well-loved in the beauty world. The series supercharged the comeback of Y2K beauty trends, and the latter currently has over 55 billion views (and counting!) on TikTok. The Euphoria-inspired makeup looks were all over the platform, which mirrors the cast's looks and outfits. Some TikTokers also dedicated makeup styles to suit the characters' vibes, and we're all in awe of how great everything looks!
Read more: Hottest skincare ingredients for 2023 you want to score